Faculty & Staff Achievements
Celebrating Achievement in the Humanities and Social Sciences
Faculty members receive 2017-18 Dean's Scholar Award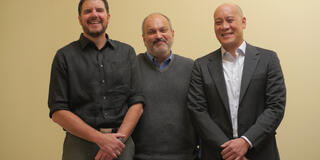 Professors Dean Rader and Kevin Chun were the recipients of the 2017-18 Dean's Scholar Award, which is given annually to College of Arts and Sciences faculty members who have made an important contribution to their field. Depending on the discipline, their contribution may be a series of articles, a book, an art installation, performance, or other achievement.
In recognition of their accomplishment, Dean's Scholars have the choice of receiving one course release and a stipend, or a stipend as well as money to be used for research or scholarly activity.
Dean Rader, Professor of English, was recognized for his contribution to the humanities for his poetry. Called "dynamic" by Booklist and "ingenious" by the San Francisco Chronicle, Rader's 2017 Self-Portrait As Wikipedia Entry is an innovative collection of poems that merge traditional and experimental forms. Rader's book interrogates three main concepts — aesthetics, identity, and America — and the degree to which these triangulate on both personal and national levels. Publisher's Weekly wrote in their review, "few poets capture the contradictions of our national life with as much sensitivity or keenness."
Kevin Chun, Professor of Psychology, was recognized for his contribution to the social sciences for his research program that focuses on Asian American immigrant health disparities and aims to improve Chinese American immigrants' management of type 2 diabetes and general health using community-based research methods in San Francisco Chinatown. He and his UCSF colleague, Prof. Catherine Chesla, were awarded over two million dollars in grant funding from the National Institutes of Health to develop and test the first cognitive-behavioral diabetes management intervention in the nation for Chinese Americans. Their findings have led to new measures of acculturation effects on immigrant health, advancement in community-based research methods, and new culturally appropriate clinical interventions and standards of diabetes care for Asian Americans.
Congratulations to Dean Rader and Kevin Chun for their achievements and contributions to their respective fields!