Global Perspective
Building Bridges on the U.S.-Mexico Border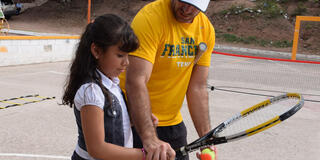 Under the white-hot glare of the U.S.-Mexico border debate, Charlie Cutler MAIS '15 is launching a new tennis and tutoring program for underserved kids in the cross-border town of Nogales, which straddles Arizona and the Mexican state of Sonora. 
Instead of faceless statistics, exaggerated political rhetoric, and fear mongering, the Master of Arts in International Studies program alumnus wants participants to see the many commonalities between families on either side of the border. 
"The program is designed to highlight the positive potential of border communities and draw attention to the unique challenges that face real people," Cutler says. "I hope to combat divisive and destructive rhetoric and showcase a healthier model for geopolitical interaction by focusing on the nonpartisan goals of inspiring young people and fostering cross-border friendships, understanding, and cooperation."
Offering a new vision
Cutler, a former USF assistant tennis coach who toured professionally in Latin America for years prior to enrolling at USF, first hosted free tennis clinics for disadvantaged kids in Nogales, Sonora last year, while he was conducting research for his master's thesis. 
He was surprised when 35 or more kids regularly showed up for lessons, particularly since tennis isn't widely played in Mexico. 
"I was impressed by how much the kids seemed to enjoy the lessons, and this inspired me to return after finishing my degree to professionalize the program and create a cross-border educational component," Cutler says. 
This fall, Cutler will launch the Border Youth Tennis Exchange (BYTE), a comprehensive 24-week after-school program, enrolling as many as 40 underserved kids in two locations — half in Nogales, Arizona and half in Nogales, Sonora. Students will spend an hour on the tennis court and an hour studying math, reading, health, and the history of the border as well as sharing cross-border video lessons and field trips.
Alma Cota de Yenaz, who directs Fundación del Empresariado Sonorense and is one of several nonprofit leaders who works with Cutler in Mexico, became a BYTE supporter after students from the girls home her organization funds took to the game after the former tennis pro's clinics.
"This isn't only about tennis and tutoring, it's about giving children around here the opportunity to have a vision of what they can become," Cota de Yanez says.
Changed his life
BYTE grew out of an internship in which Cutler interpreted for lawyers representing women and children seeking refugee and asylum status after fleeing violence in Central America, explains Assistant Professor of politics Kathleen Coll, Cutler's graduate adviser and a BYTE board member.
"My experience as an interpreter led me to conduct research at the border and changed the course of my career and life," Cutler says.
USF's international studies program offered interesting classes and the freedom to study issues such as Central American economic history, refugees, and U.S. asylum policy. Cutler also benefitted from the program's numerous San Francisco connections that allowed him to meet leaders of organizations operating in countries around the world, see how nonprofits worked from the inside, and intern for a number of them — including coordinating an inmate tennis program and teaching college prep writing at San Quentin State Prison.
"Studying in San Francisco gave me access to an incredible world of successful nonprofits and allowed me to actively participate and advocate for human rights, fight social justice, and the public good," Cutler says.
Know someone with a powerful USF story? Let us know! usfnews@usfca.edu Twitter @usfcanews