Alumni
Bringing USF Home From Across the Globe
5 Questions With Quang "Steven" La '24, Engineering Cohort Student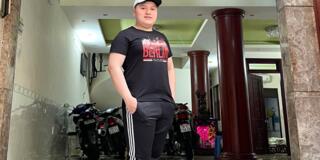 USF's inaugural engineering cohort has united students from diverse backgrounds, some of whom have tuned in to Zoom classes from across the globe. As one of the cohort's 29 students, Quang "Steven" La '24 has had an especially unique first-year experience. Despite being miles away in Vietnam — a fourteen-hour time difference from California — La's professors and peers have helped him remain connected to his cohort despite the many struggles he's had to endure. 
No matter where life takes him and the obstacles he may face, La is committed to Changing the World From Here through the power of engineering. With the support of USF's engineering department, he's already on the right track to succeed. 
What does "Changing the World From Here" mean to you?
It means to change the world within ourselves, right at this moment. Everything we do now, and even in the future, has an effect on the world. With small improvements in our actions, we can make a positive difference in the world around us. 
Who is someone you know within the USF community who is "Changing the World From Here" and how?
Professor Genna Smith is a fantastic person with a lot of brilliant engineering ideas. She always makes sure that everyone in class understands the lessons and is willing to spend extra time after class to help those who have concerns. She ensures that everyone understands the issues and can adapt what they've learned in the classroom to real-life circumstances. Thanks to her, I am able to keep up with everyone despite being in a different time zone.
What inspired you to become a member of USF's inaugural class of engineering students?
I've always been fascinated by engineering, even as a kid. Engineering has made a significant contribution to all of our lives, especially by supporting a variety of fields during the COVID-19 pandemic. Now, after witnessing the effects of the pandemic, I want to build something that will benefit everybody. Through my engineering classes at USF, I hope to become an engineer who can develop useful products.
What have been some of your most memorable experiences during your first year at USF? 
My most memorable moments are from USF101, a 1-unit course specifically geared toward first-year Dons. We were allowed to express ourselves, despite being in an online environment. We talked about our hobbies, made a plan to travel around San Francisco, and had useful conversations about colorism, racism, and how to face it. It has been a really relaxing, yet educational class, and it helps first-year students feel welcomed while settling into the USF community. 
What makes you proud to be a USF Don?
Before I took any classes at USF, I was pretty nervous. I had to study online for the first time — for my first year of college — and I had to do it all while in Vietnam, a completely different time zone from the U.S. Yet, after taking the engineering classes, I was truly amazed. Everyone is very understanding and friendly. Even when I have some problems adjusting my schedule, everyone helps me as much as possible and they even allow me to catch up at my own pace. I am just really grateful to be a part of such a wonderful community that allows me to be able to learn more about myself and improve even further.
To support students like Quang, consider making a gift in support of the College of Arts & Sciences and Changing the World From Here: Campaign for the University of San Francisco.