Equipped to Lead and Succeed
Arts At USF: Don't Discount That Passion Career Just Yet
Hunting her passion for music journalism, one USF alum is rubbing elbows with the bands she loves — as their manager.
Six months ago, Media Studies alum Amanda Van West ('08) moved to New York City to pursue new opportunities in The Big Apple's vibrant music scene, becoming Band Manager for an Indie Pop band, The City and Horses, and now an Account Representative for Sound Performance, a company that works with indie labels and artists to manufacture vinyl, CDs, cassettes, and more. She also consults for a nonprofit called Notes For Notes who builds recording studios all over the U.S. (including San Francisco) for kids to learn how to create music in.
It's a dream that couldn't have come about without some nurturing. Van West often struggled with the reality of chasing a career in the music industry with its competitiveness and volatility. In all artists' minds, there's always that quiet nagging voice, There's an easier way to make a living.
In fact, she struggled with fully committing to her passion even into her master's work in International Broadcast Journalism at Westminster University in London.
"Even though I loved music journalism, I didn't want to study music business," she wrote in a recent blog post featured on LinkedIn's Pulse. "I was worried that working in music would ruin my love of it, so my plan was to try and work in documentary production."
Fertile Ground For Arts & Passions
There's a rat race on for this generation of college students. It's a commonly held opinion that to be competitive in the job market a student must choose a path from Day 1, and stick to it. USF understands this, and effectively and amply provides for this path, but it also understands the importance of discovery, of arts and passions that drive the heart and soul of our culture. As Van West can attest, USF is great place to explore a career in the arts.
There are so many different outlets and groups that you can get involved with. It's the perfect time to try a bunch of things out so you can figure out what path you like best.
And not only is the university designed to cultivate the arts, but its location in the heart of San Francisco amplifies the potential for artists to flourish.
"I spent a lot of time off-campus exploring many of the cultural institutions the city has to offer," Van West said in an interview with USF. "There are a ton of concert venues in San Francisco. Going to concerts was an integral part of my experience — I made a lot of really good friends, both in and outside of the USF community, who were just as crazy about music as I was."
Equipped To Succeed
Van West knew she had a passion for music journalism, but, like all undergraduates, her mind was on a career after graduation, what to study in order to be able to make a living. She hesitated to go after what she wanted, but, like all people with true passions, it didn't go quietly into the night. She couldn't be rid of it, and eventually found herself in the Media Studies program.
It's common to think that an arts degree, come time to find a real job, is not useful; enriching, but not productive. However, this wasn't Van West's experience at USF. She found that it imparted real, employable skills.
The Media Studies program taught me a level of professionalism that I didn't have before starting the program, and how to respond to critical feedback. It also pushed me to think of creative ways to incorporate my love of music into various projects — from interviewing bands for USFtv, to choosing the soundtrack for short documentary films, to writing a twenty-plus page thesis on my favorite album at the time.
"It allowed me to try my hand at producing content for a variety of outlets — print, web, video," she said in the interview. "I loved working with classmates on different projects. I felt like we had a tight-knit crew."
A Hustler's Attitude
As any pursuer of a career in the arts can attest to, success involves hustle. Some of this can't be taught, is rather innate to your character, but Van West attributes a fair amount of her proactive personality to the Media Studies program.
"My mom is probably the best hustler I know, so I learned a lot of that being raised by her," she told us. "Even so, I was actually fairly complacent and uninvolved my first two years at USF, but that changed during the second two."
The environment at USF, especially within USFtv, and seeing all the cool things my classmates were up to, pushed me to be more of a go-getter. And it paid off!
Using this mentality, Van West was able to go get real world experience that built her resume, all while in school. For instance, she reached out to Popscene, a local indie nightclub, to ask if she could interview bands and write up concert reviews in exchange for free tickets. To her delight, they agreed, and after getting a few articles published, she started writing music reviews for several other outlets, including USF's newspaper, The Foghorn, and a British music site called DIY Mag. She also started hosting USFtv's music television show, Visionz.
Study Abroad Opportunities
Van West also took her hustler's attitude international. Along with USFtv associate Aiza Bonus, she was chosen to film a documentary for the McCarthy Center, which followed a group of USF Architecture & Community Design students to a rural Nicaraguan village to start building a community center that they had designed.
"It was an incredible experience that allowed me to improve my filming, interviewing, and editing skills, and connect with totally different cultures," she said in the interview. "The experience there was also very helpful for my application to grad school."
Her Professional Journey
Equipped with her education and experiences from USF and grad school, Van West set out into the job world and snatched her first real job, an internship at Applauze, a music startup, by tweeting them a link to her LinkedIn profile with a message that boldly stated, "You can take down your internship posting."
Becoming their first employee, she ended up working there for nearly five years, from Intern to Head of Music Content, primarily running the music discovery app, Band of the Day, which, as of July 2015, has since shut down (though Applauze, with their pre-sale ticketing platform, is still going strong).
"Working for Applauze was like boot camp for learning the ins and outs of the music industry," Van West wrote in her blog post. "I started with just a handful of publicists' email addresses who I had set stories up with in prior years, to now having a global network of music industry connections in nearly every imaginable area."
And with this network and know-how, she then made the move to NYC.
A Life-Changing Experience
Although many things have contributed to her success, she holds her time at USF as one of the major contributors, and often thinks upon her time as an undergrad with fondness.
"Some of my best times were with my roommates in Loyola Village," she told us. "Or those all-nighter sessions with my Media Studies friends in the media lab, after editing videos for hours on end, where we'd get to the point of delirium and nearly everything would become hilarious."
Learn More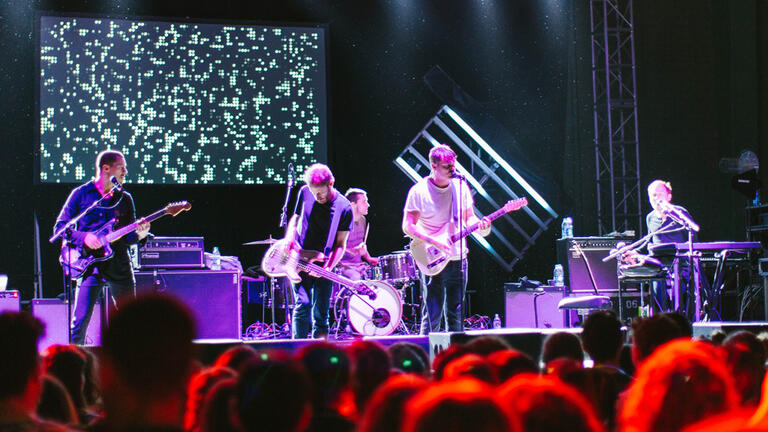 DONAROO. Every spring, USF's Campus Activities Board brings up-and-coming musicians to campus for exclusive concerts.