Alumni
Alumna Makes Major League History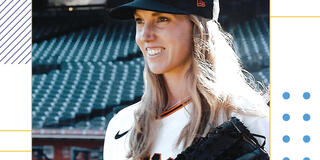 The San Francisco Giants hired Alyssa Nakken MA '15 on Jan. 16 as the first female full-time assistant coach in Major League Baseball history.
"I'm so proud to see USF sport management alumna Alyssa Nakken selected for this coaching role," said Associate Professor Nola Agha, of the sport management program, on Twitter. "She's an exemplary human both on and off the field and the Giants are lucky to have her in their clubhouse."
Nakken joined the Giants in 2014 as an intern. She now develops, produces, and directs a number of the organization's health and wellness initiatives and events, including coordinating the Giant Race series. She also chairs the Giants' first employee resource group, the San Francisco Giants' Women's Network "Momentum," that celebrates and promotes diversity and equity within the organization.
Last month, Nakken was nominated by her peers and was co-awarded with the 2019 Sprinkles of Love Award. Named in honor of late front office employee Anita Sprinkles, the award is considered the "Willie Mac Award" of the Giants front office and recognizes individuals for ethics, professionalism, and humanitarianism.
Before joining the Giants, Nakken served as the chief information officer for the USF baseball team, after graduating from the sport management program. She played first base for the Sacramento State Hornets from 2009-2012 and was a three-time all-conference selection, four-time Academic All American, four-time Commissioner's Honor Roll member, and the 2012 conference Scholar-Athlete of the Year.