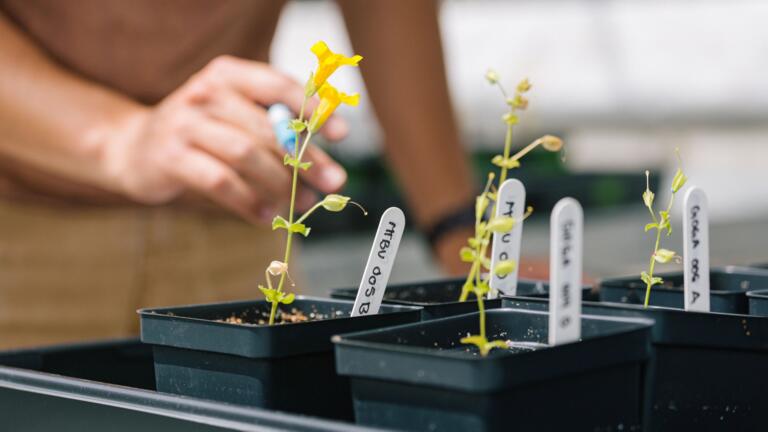 Urban Agriculture, Minor
Community Garden
The USF Community Garden is a living laboratory for students, faculty, and staff interested in sustainable agriculture, as well as, generally, a space for reflection for anyone in the community who enjoys logging off for a while to breathe, think, converse, or read. Join us on Thursdays from 11 a.m.–3 p.m. for our Garden Harvest Days!
Find recipes from the Garden Project Living Learning Community on their blog.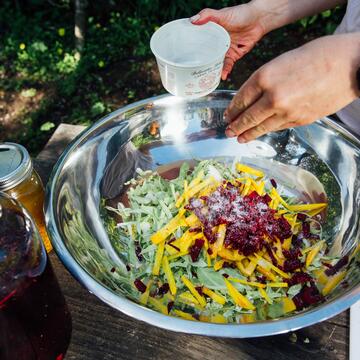 The garden, located between Lone Mountain and the Education Building, was started in 2007 when professors leading and students enrolled in The Garden Project Living Learning Community transformed an overgrown lot used by ROTC into an organic garden. Today, the 1/8-acre garden provides year-round seasonal vegetables, fruit, and herbs.
The space currently functions primarily as an outdoor classroom, specifically for Urban Ag: Fall (ENVA 130) and Urban Ag: Spring (ENVA 140), where students learn basic and advanced principles and practices of organic gardening. The plot is also a vital space for urban food production, used primarily by Community Garden Outreach (ENVA 145), where students harvest fresh produce from the garden and cook meals for our campus farm stand and free community dinners. The remaining produce is donated to the food bank at the Booker T. Washington Community Service Center.
The garden has also, in the last few years, stood as a living laboratory for students and professors in various disciplines, not just Urban Agriculture. For example, along with the water catchment system Urban Agriculture students designed for the orchard, Architecture students have designed and built a greenhouse, an information kiosk, and a solar panel system in the garden; Art students have designed signs and murals for the garden; and Ecology students have experimented with growing native plants.
Get Involved!
All members of the USF and surrounding community are invited to join our weekly Garden Harvest Days on Thursdays, 11 a.m.–3 p.m. Whether you are a seasoned pro or merely gardening curious, join us to learn new skills and meet new friends. And for your labor, you can go home with a bag full of fresh, organic produce from the garden!
For more information, contact Rachel Brand. And in the meantime, follow us on Twitter @USFGarden and Instagram @usfgardenoutreach.