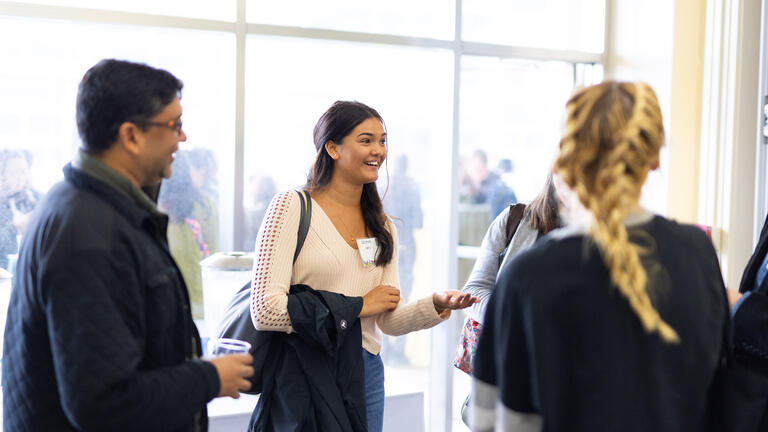 International Studies, MA
Financial Aid & Scholarships
Our program offers some scholarships that are awarded to students on a competitive basis as well as research assistantship opportunities.
Program Scholarships and Research Awards
Program Scholarships are merit-based scholarships awarded to new students. All applicants, U.S. and international, are considered for these scholarships at the time of admission consideration. They are limited in number and vary in amount and cover part of tuition costs. Scholarship awards will be indicated in your admission letter. Applications completed by February 1st give priority consideration for a program scholarship.
The Dean's Scholarship is a one year, $25,000 scholarship award toward tuition and fees for one student. In addition, the awardee will attend a dean's reception, receive conference funds, and be featured on the program website. Apply for the program by the priority deadline to be considered. Decisions will be made based on the strength of the application materials.
The Paul D. Coverdell Fellows program is a graduate fellowship program that offers financial assistance to returned Peace Corps Volunteers. Recipients receive financial support equal to a minimum of 25% of total tuition and mandatory fees associated with the MAIS program.
Students may use their Segal AmericCorps Education Award to take a step toward their higher education goals. The MAIS program will provide a scholarship or a match for AmeriCorps alumni with their education award.
MAIS Travel Awards

The Rue W. Ziegler MAIS Fellowship Fund has been established to help provide travel funding to students conducting thesis and applied project research outside of the Bay Area or to support conference participation.

The William Goldman Scholarship Fund for Work in Diplomacy provides scholarship funding for students engaged in study, research, or internships focused on the area of diplomacy: work centered on the foreign service, global governance, international institutions, and diplomatic relations among states.
Research Assistantships and Resident Ministers
Research Assistantships — Each year, MAIS is able to offer five to six graduate research assistantships to qualified incoming students, who work directly with MAIS faculty members. Additionally, once enrolled  at USF, students are eligible to pursue assistantship opportunities campus-wide. 
Resident Ministers — Campus Ministry has a small number of Resident Minister positions; MAIS generally recommends two to three individual candidates to apply for these positions, who must then undergo a rigorous interview process.
Other Opportunities
Visit the Student Affairs Internship Program website. In addition, U.S. citizens or permanent residents can also find USF job postings at the human resources website.
Find non-USF opportunities at the Office of Graduate Admission's Non-USF Financial Aid page.