Engaged Learning
Relationships in Health Care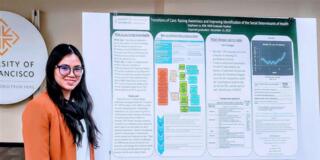 Growing up in a family heavily involved in healthcare, MSN alumna Stephanie Le understood the meaning of cura personalis — care for the whole person.
Through first-hand experience in both bedside and outpatient care, Stephanie learned about the importance of care transitions, ultimately leading her to apply for USF's Master in Science Nursing (MSN) program her sophomore year.
"I wanted to build relationships with people and do something that could impact their lives. What nursing and health care gave me were options to forge relationships."
As part of her BSN senior capstone experience, Stephanie worked in a hospital ER, where she witnessed the importance of care transition plans. She noticed that many patients were returning after procedures and wanted to do something about the high readmission rates. As she moved into the MSN Clinical Nurse Leader program, she chose to tackle the problem by developing a quality improvement project.
Upstream Prevention
Always intrigued by the psychosocial aspects of health care, Stephanie wanted to understand how the social determinants of health impacted transition program (TP) outcomes. She wanted to dig deeper into how these short-term case management programs dealt with care coordination and help reduce the psychosocial barriers that deter patients from effectively managing their conditions after discharge.
Stephanie observed that if support systems were in place for mental wellness and checkups, unplanned readmission was lower. By analyzing readmission risk scores and assigning transitional support, Stephanie developed a well-rounded screening tool to improve staff education in evaluating a patient's psychosocial situation during the discharge process.
"It's important that post-discharge care is holistic. Asking questions such as, 'do you have a consistent mode of transportation to get to your doctor appointments, or do you have the resources to support your cardiac diet?' are important. Upstream prevention and higher quality care requires that we, the healthcare providers, identify and connect patients to people and resources out there."
Managing Transitions
Through this experience, Stephanie saw how nurses, especially clinical nursing leaders, could advocate for patients.
"My project is about opening up conversations between different health care areas. This project allowed me to look at patient care from an entirely new perspective. I'm a lot more comfortable speaking up for patients and working with the interdisciplinary team to build a more comprehensive plan of care. USF's cura personalis vision has defined my nursing practice and impact."