Engaged Learning
Serving the Underserved
A new initiative in rural healthcare education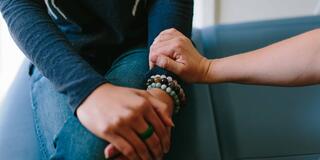 A new practicum program will prepare students to work with rural and medically underserved populations.
The University of San Francisco School of Nursing and Health Professions (SONHP) was awarded a federal grant in the amount of $2,462,647 over 4 years from the Health Resources and Services Administration (HRSA) to develop an innovative academic-practice partnership that prepares Family Nurse Practitioner (NP) or Psychiatric Mental Health Nurse Practitioner students for practice with rural and medically underserved populations.
The innovative partnership will encourage collaborative educational practices between DNP trainees, clinical instructors, and partner sites. SONHP faculty and Doctor of Nursing Practice (DNP) students will work with Community Recovery Resources/Granite Wellness, Chapa-De Indian Health, and Dignity Health to increase healthcare access to rural and medically-underserved populations in Northern California (CA) and the CA Central Valley.
"As a rural healthcare provider, I am keenly aware of the acute need for healthcare workforce development in rural and otherwise under-resourced communities. Of particular importance is the preparation of primary care clinicians to address critical behavioral health issues, including opioid use. I am incredibly grateful for the opportunity to work with our partners to develop solutions that meet the needs of the local community," says Alexa Curtis, associate professor and director of the Family Nurse Practitioner Program.
Working Together
Efforts supported by the grant will address critical needs in communities, including the development of a theoretical and clinical focus on substance use disorders and other mental health issues, as well as childhood obesity and the development of telehealth competencies in students and preceptors. The grant will also support the recruitment of NP students who plan to work with rural and medically-underserved populations.
"The School of Nursing and Health Professions is comprised of extraordinarily talented and dedicated faculty like Dr. Curtis, who are committed to health equity, social justice, and improving health and health care," says Margaret Baker, dean of the School of Nursing and Health Professions. "This school, with its mix of health professions and use of a collaborative approach, is positioned to excel in integrated physical and mental health care and in population health."
The USF community congratulates Professor Curtis and SONHP's clinical partners on this award and initiative.