Giving
Where Are They Now: Rayburn Tang '22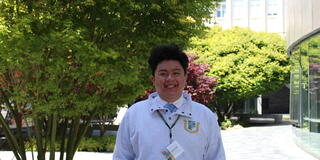 USF often shares stories about the impact of scholarships on students. In 2020, Rayburn Tang '22 shared how he was impacted by the Kai Chong Tong Scholarship. Now, two years later he is graduating from USF, along with the rest of the Class of 2022. He will earn a bachelor's degree in psychology along with three minors: Chinese Studies, Child and Youth Studies, and Neuroscience.
Tang's scholarship allowed him to focus on academics and finding a career path through which he could serve others. After some reflection on his own life and exploring different classes at USF, a career in adolescent psychology seemed a natural fit. Over the past two years, Tang has put what he's learned in the classroom into action by working in labs, both at USF and the University California, San Francisco (UCSF).
Learning by Doing
Impressively, Tang has secured volunteer positions in two psychology labs at UCSF through the BrainLENS program. Both studies at UCSF involve studying adolescents: how dyslexia affects reading comprehension in children and how reading and math skills are passed on to children conceived through in vitro fertilization.
He further cemented his passion for psychology and found his niche in adolescent research with Dr. Saralyn Ruff's Foster Care Research Group at USF. The lab works alongside a non-profit organization called A Home Within to provide free therapy for foster kids as long as they need, even into adulthood, and to analyze therapy and intervention practices to ensure a measurable impact.
"I love working in all my labs. I've learned different aspects of the research process and they've increased my understanding of why I love working with kids," Tang said. "I've learned so much about empathy and compassion. It's also made me more grateful for what I have."
Looking to the Future
With opportunities at his disposal, Tang is looking forward to diving head-first into more clinical research with the UCSF labs. He hopes to use this experience to more closely hone his areas of interest before applying to graduate schools. The ultimate goal? To earn a PhD in Clinical Psychology and help as many children as possible.
"I love doing everything so a PhD will allow me to do the research that I want to do and also to teach," Tang said. "In the future I want to help change kids' lives by helping them to better understand themselves and their mental health. I don't want them to be afraid of mental health."
While a few years away from obtaining his ultimate goal, Tang recognizes he is one step closer because of the scholarship support he received from USF.
"Scholarships have allowed me to finish higher education, something I've wanted since I was young. I've had wonderful experiences through the schooling and classes that I've had and the people I've met here at USF. It's opened the doors to doing the research that I love. If I didn't go here, my life would look so different. I have scholarships to thank for that."
With graduation right around the corner, Tang is looking forward to wrapping up his finals and transitioning to a full-time role with the UCSF BrainLENS lab. With one chapter closing, he knows USF prepared and equipped him to continue to Change the World From Here one step at a time, one person at a time.
Change can be minimal. If you can affect one person, you're already changing the world. Because that person's life will change forever through your impact."
---
Learn how you can support more students like Rayburn Tang find their passions and make a difference in their communities.