Engaged Learning
When Sports and Fashion Collide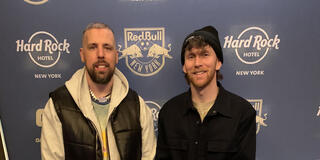 Tanner Lark, MS '23, a sport management student at the University of San Francisco, always felt that style was about more than clothing and accessories — and a recent, USF-donor-funded trip confirmed the notion by bringing together his two passions: sports and fashion.
Lark attended the New York launch of luxury sportswear designer Daniel Patrick's exclusive limited-edition soccer jersey collaboration with Adidas and the New York Red Bulls, and he described it as a "crazy cool experience" that sharpened his career ambition of becoming a brand storyteller and enhanced his sport management studies.
"I always had an understanding that what people wore was an expression of their individuality – you tell a story with your style," said Lark. His interest in both sport and fashion brought him from Kansas City to California. There, a connection with an alum of USF's Sport Management program who worked at Nike made him realize that the program was the best route to both further his education and have access to West Coast brands. Lark now has experience with U.S. Sports Camps, Stanford Athletics, and both the Nike and adidas brands on his resume. 
Thanks to contributions to the sport management professional development fund from alumni and other donors, Lark was able to attend the official release event for the New York Red Bulls in February 2023. "I was fully immersed in the NYC fashion culture and visited iconic fashion brands," he said. During the trip, he connected with sports and fashion industry professionals, including members of the Adidas team. "Seeing the jersey unveiled and listening to Daniel talk about the design's inspiration was a major highlight of the trip," he said. 
The Sport Management program offers career development opportunities like a dedicated internship course and the professional development fund that allows students to attend industry-related events, conferences, and experiences such as the jersey launch. "That's often how people kickstart professional connections — via the networking that happens on those occasions," Lark said.  He's grateful that the program both enabled him to attend such an illustrious event, and also taught him practical essentials about how to apply, interview, negotiate, and progress through job opportunities, even after he graduates. 
Thanks to those lessons, Lark was able to work with the Archrival youth culture agency, a marketing agency that specializes in connecting brands with young adults. Of his time there, Lark said, "Working to develop the authenticity of the Adidas brand and encourage brand advocacy among young people is what gets me up in the morning."