Campus Life
6 Ways to Weather the Storm
In the time of coronavirus, this student makes the best of life at a social distance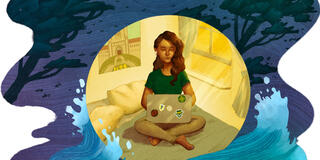 Arizona has never felt farther from San Francisco. But now that I've moved from USF and am transitioning to a new normal, this is how I'm staying calm and connected 765 miles away.
Staying Active
While Koret is closed, that doesn't mean we have to stop working out. Yoga Garden in San Francisco is livestreaming yoga classes.
Talking to Friends
Spending time with family is great, but it's been challenging to leave all of my friends and clubs at USF. I'm staying in touch with Facetime, text, and even paper letters in the mail.
Helping My Community
In hard times I find strength by supporting others. Instead of focusing on my own stress, I do grocery runs for elderly neighbors.
Minimizing Social Media
In the past two weeks my social media has been flooded with "In 10 Days Things Will Get So Much Worse!" posts. Instead of keeping me connected, social media made me more stressed. I deleted Instagram and haven't looked back since.
Looking on the Bright Side
I've been starting my morning by taking a walk and ending the day with journaling three things I'm grateful for. Expressing gratitude for the good has been crucial to avoid spiraling into thoughts of "Will I have to use newspaper as toilet paper?"
Connecting to USF
I've found my daily dose of USF compassion and connection in my Arrupe Immersion group. Since our return from Peru two weeks ago, we've been messaging friends we made there via group chat. We exchange jokes and encouragement — and we're planning a Zoom movie night.