Engaged Learning
W. Kamau Bell Says Democracy is No Laughing Matter
Comedian urges USF community to create the country we deserve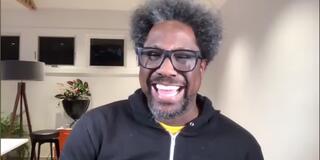 If laughter is the best medicine, can it heal an ailing nation?
"No," said W. Kamau Bell. Comedy can't heal our country. But education can.
In a Nov. 19 webinar produced by USF, Bell — comedian, author, television host, and this year's visiting artist/scholar with the Honors College — said comedy can only do so much to treat the nation's political and cultural wounds.
"It's hard to heal if you have a group of people who don't believe that a disease is a disease, and who don't believe that structural racism exists," Bell told moderator Jonathan Hunt, professor of rhetoric and language.
"If you're anti-science and anti-Black, that's hard for me to deal with," said Bell. "I can handle one of those things but not both."
So what can we do to fix America?
"We should all take simultaneously one huge civics class and one huge intro to science class," said Bell. "These are the basic facts, and if you opt out of those things and you don't want to know the basics, then, well, maybe you shouldn't be voting."
Bell said that a college education can help, too.
"It's important that you do your classwork but it's also important to learn how to stand up for yourself, stand up for others, and reach out to others when they need your help."
Bell said that Black students could use some help. "I go to so many colleges that have Black students but not a significant portion of Black students, and those students feel basically abandoned, that they're not being seen, or sometimes security asks you what you're doing on campus when you're a student there."
People who run colleges should "create a supportive environment for Black students, Indigenous students, people of color," said Bell. At the same time, "if you're one of those students, speak up for yourself. Demand that you get what you need from the institution."
Turning Point
America stands at a crossroads, said Bell.
"Within a year, we might have Medicare for all," he said. "We might have universal basic income. If the government turns prisons into rehab facilities, then in 10 years we'll look like the country we thought we were rather than the country we are now."
We must push for change, said Bell. "We need to treat democracy as a full-time job for each of us, not something that we do once every four years. Who do we want to be as a country? What kind of human are you going to be once you leave college?"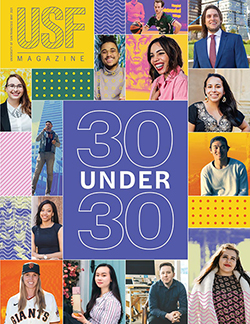 Featured in USF Magazine
This USF News story was published in USF Magazine, where you can find feature stories about university life, alumni Class Notes, and information about events at USF.