Giving
A USF Alumna's Commitment to Giving Back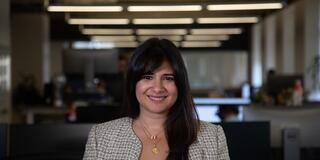 Neha K. Mac '07 has made recurring donations to USF for more than 15 years. Believe it or not, her experience at a USF phonathon is what inspired her to make her first gift after graduation.
Mac worked as a student caller, facilitating donations to the university over the phone, and after a handful of successful phone calls she realized the job came naturally to her. Sharing her love of the university came as easily as speaking to a friend.
"I really believed what I was saying. I wasn't just thinking, 'Let me sell this school.' It was really about sharing that I had thoroughly enjoyed my time spent at USF. I've gotten a great education, I've gotten great opportunities, and I have USF to thank for a lot of that – for molding me into who I am today. So when I graduated it felt pretty natural for me to give back," Mac said.
Paying it Forward
A few weeks after her acceptance to USF as a Biology major, Mac realized that she wanted to pursue a different academic track. She remembered reaching out to faculty and staff in search of guidance and they helped her discover an interest in USF's International Business program. She later graduated with a Bachelors of Science degree in Business Administration.
She emphasized that the USF community played an integral role in her life during those formative years of undergraduate school. She hopes that her gifts allow future generations of Dons to receive an even better experience.
"I want to make things easier on the people that come behind me. It's one thing to create a path, but I want to make sure that that path is solidified as well. By donating, I can help other students have an easier time if they need it," Mac said.
"Any little bit can help. Whether it's having enough money to support the USF food pantry or making sure that students have enough money to feed themselves during the pandemic — it all makes a difference," she added.
Influencing Change as a Community
Since graduating, Mac has volunteered for USF's alumni regional councils in Southern California and, more recently, San Francisco. She's taking advantage of all of the opportunities to stay connected.
"I feel like I got so much from USF. I can go back to campus any time, any day, and just feel that sense of community. I know that if there was a USF graduate out there doing something that I had a vague interest in, I could message them and they'd take the time to connect with me," she said.
Mac believes that keeping these connections alive for future generations is what being a Don is all about and that everyone is capable of creating a positive impact. It's about how you engage with your community and the resources that are available to you.
"This is how we make a difference. You don't have to go somewhere far away. You can make a difference from right here, exactly where you're sitting and exactly where you're standing," Mac said.
To join Mac in support of the USF community, consider making a gift to Changing the World From Here: Campaign for the University of San Francisco.