Equipped to Lead and Succeed
The Don Wears Prada: A Comm Studies Senior Interns At NYC Fashion Mag
Last summer Ingrid Van Diest, a senior in the Communication Studies major, landed a dream internship at the international monthly women's magazine, Marie Claire, that would change the trajectory of her life.
Based in NYC, Marie Claire is run by the Hearst Corporation and — along with health, beauty, and fashion — focuses on women around the world and various global issues.
The Job
"I worked in the fashion closet," Van Diest said, "where they keep all the beautiful designer clothes, shoes, and accessories they shoot for the magazine cover and editorials."
The job was to maintain records of seasonal fashion trends, manage designer requests and samples, organize the closet, prepare trunks for local and international photo shoots, create storyboards for the fashion editors, and assist the editors with anything they needed.
In other words, I was Anne Hathaway in The Devil Wears Prada.
"It would get very exhausting sometimes, running around NYC carrying heavy garment bags in the summer heat, but it was totally worth it," she said.
Real Industry Experience
At the end of the summer, Van Diest walked away with everything she needed to know about magazine production, how editors make executive decisions, how the fashion industry works in general, and what it will take to get to her dream job: Editor in Chief.
"I had a great hands-on experience and wonderful networking opportunities that, in my opinion, are worth so much more than a small stipend," she said.
What began as a shot in the dark response to a listing on Twitter, became, according to Van Diest, the best decision she's ever made.
I am completely hooked, and truly believe I've found my calling.
Key To Success
Chasing dreams is never easy. It's scary from first step to last step.
"One time I was having a terrible day where everything seemed to be going wrong — the hottest day of the year and I had to go pick up clothes at the Diane Von Furstenberg showroom, which was pretty far," Van Diest said.
It's on these days, she said, when you're working from 9am-10pm and life is awful and your dreams seem further away than ever before, that you need to keep your eye on the prize.
If you keep the negative thoughts away and keep telling yourself, I can and I will, you transform your whole attitude and energy into something positive that will actually help you reach your goals.
Which Van Diest experienced first-hand on that horrible hot day, slogging to the Diane Von Furstenberg showroom.
"Right as I was walking up to the building," she explained, "I saw Diane Von Furstenberg — herself! — walk out looking absolutely fabulous, and I watched her until she got into a big black car and drove off. I was so star struck — there was one of my favorite designers in the flesh! And it's moments like that where you remember why you started, why you're working long hours with no pay, why one day it will be worth it, and how incredibly blessed you are to have this opportunity."
What The Future Holds
Thanks to her internship at Marie Claire, Van Diest has since landed a job as a freelance student stylist and editor with ASOS.com, a London-based online fashion company.
"It's really been a dream come true," she said. "I'm not really sure where I'll be working when I graduate, but thanks to my experience with Marie Claire, I know I'll be where I am meant to be."
The original form of this article appeared on the Communication Studies program's blog, "Speaking Of..."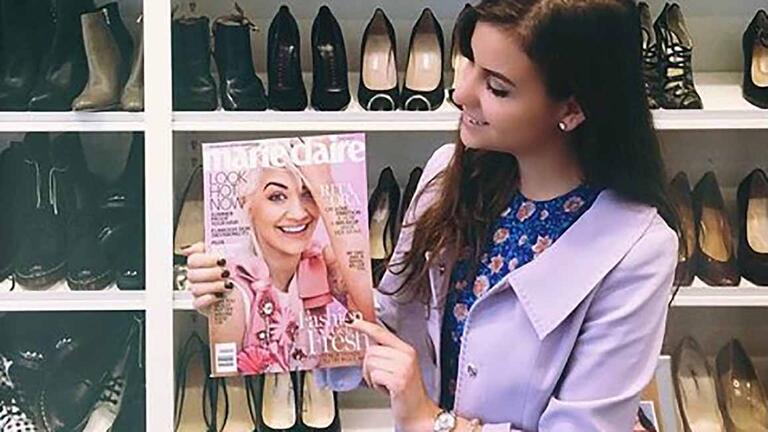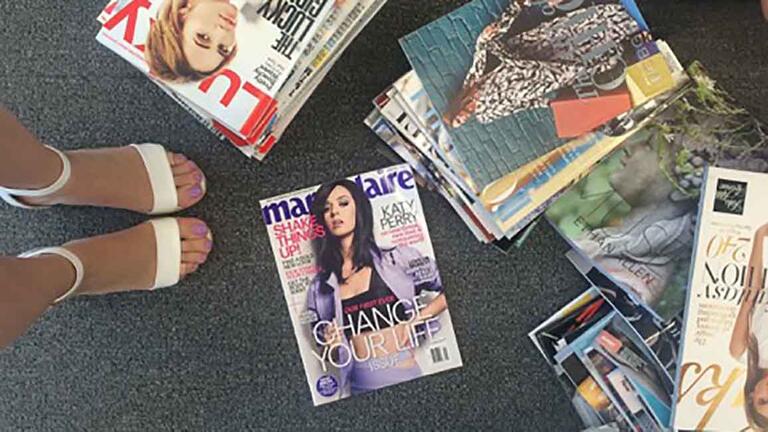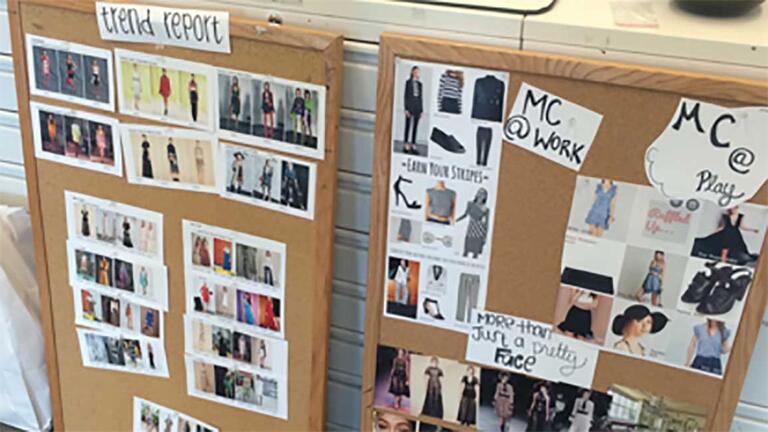 Ingrid Van Diest ('16) in her dream closet, the fashion closet at Marie Claire.