San Francisco Advantage
Students Visit the Future...of Cancer Technology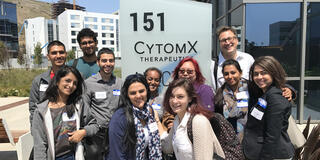 Every year for orientation, the Professional Science Master's (PSM) in Biotechnology takes the incoming class to visit leading companies around the Bay Area. In past years they've visited companies such as Amgen and Genentech. This year the students had the opportunity to visit CytomX.
CytomX, a company based in South San Francisco, is using its cutting-edge biotechnology — Probody therapeutics — to create more effective treatments for cancer. Not open to the public or any other master's programs, this visit was a special opportunity for Biotechnology students, giving them exclusive access to what could be a huge breakthrough in cancer treatment.
Current cancer treatments bind antibodies to antigen targets, but these targets are not just found on diseased tissue; the antibodies can bind to healthy tissue as well, resulting in toxicity. Probody technology uses a masking peptide to minimize binding to healthy tissue and selectively target the diseased tissue.
On this visit, students were able to tour the research lab facilities and witness the instrumentation and techniques used in the Probody platform, which is currently in two phase II clinical trials.
"The opportunity for students to see such exciting technology first-hand helps to 'psyche' them up about working in the industry after they graduate," said Professor Jennifer Dever, Director of the Biotechnology program.
The orientation visit to CytomX also consisted of a discussion panel, in which CytomX employees shared their experiences with the students. The students were able to ask questions, gain invaluable knowledge about the world of biotech, and make important connections within the industry.
Melissa Low '19 said, "The panel was great because everyone explained their background and how they got to where they are now. I feel like the information they imparted will help me to better understand how to enter the field of biotechnology after I graduate."
The opportunity to make valuable connections in the industry doesn't just apply to these orientation events, but also extends into the program's advisory board, which provides students with direct connections to top industry members working at leading companies in the Bay Area, such as BioMarin, Genentech, and Distributed Bio. These direct relationships give students a competitive advantage in gaining internships and makes them more marketable for hiring.
Opportunities such as this visit to CytomX are available each year for incoming students, and the volume of cutting-edge biotech companies within the Bay Area provides the Biotechnology program with a unique advantage.