Alumni
Starting with Home
Five Questions with Gladys Perez '15, MA '19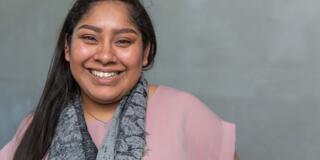 Gladys Perez '15, MA '19 is the daughter of immigrant parents from Oaxaca, Mexico, and a first-generation college graduate from USF's School of Education. Following her undergraduate years, Perez's involvement as a staff advisor for USF's affinity group, Latinas Unidas, and as an active member of the Task Force for Undocumented Students has helped foster community among faculty and students through supporting Latinx academic programs and events. Completing her MA in International and Multicultural Education at USF she hopes to explore narratives of hope that stems from making home one's starting place.
What does "Changing the World From Here" mean to you? 
To me, this mission statement suggests you start where you are. You don't have to go far to make change because the changes you invoke within your family, friend groups, community, and workplace can begin a ripple effect that you may not have imagined. You as an individual know all these parts of your life best so it is those experiences that are valuable to making meaningful change.
As a first-generation college graduate who is now pursuing a Masters in International and Multicultural Education at USF, what is the impact the university has created in your life thus far?
My whole higher education career has been at USF so I like to say that my undergraduate studies gave me the tools to analyze and study social issues, communities, and society more broadly. My time in the Masters in International and Education program gave me a strong community of women of color to challenge various issues that impact the field of education. While we were interested in different parts of education, we all understood that the work of one impacts and is impacted by the work of another.
What inspires you to continue engaging with and giving back to Latinx programs and organizations on campus as an alumna?
As the daughter of indigenous immigrants, I am continuously inspired by Latinx students and colleagues who challenge and push our community to think more broadly because Latinx people are not monolithic. We come from a variety of histories, cultures, languages, faith and spiritual practices, genders, sexualities, etc. all of which deserve to be acknowledged and celebrated, particularly those who are not traditionally centered.
Is there someone, such as a professor, peer, coach, or advisor, that had or continues to have a substantial impact on your college experience? How?
At USF there are a plethora of inspiring and impactful people! As an undergraduate student, it was definitely my peers from Latinas Unidas, MEChA (now called LUNA), and the Latin American Student Organization (LASO) who gave me a community. As a graduate student, it was Professor Rosa Jimenez and my fellow women of color classmates who are committed to transforming the field of education. As a staff member, my wonderful colleagues Lionell Daggs III and Jinni Pradhan from the Cultural Centers, the numerous Higher Education and Student Affairs (HESA) graduate students I've worked with, and my former colleague Dr. Ria DasGupta all of who are brilliant practitioners and thinkers. Lastly, I will note that former Vice Provost Mary J. Wardell-Ghirarduzzi greatly impacted my college experience. I met her as an undergraduate student, and through my years at USF, she saw my leadership and nurtured it to where it is now. I am deeply grateful for everyone I have met at USF.
What is a piece of advice you can give to current Dons?
Challenge yourself! Whether that is going to an event or student organization meeting by yourself, applying for that job, internship, or study abroad program, sharing your thoughts in class, or going to your professors' office hours! It's going to feel uncomfortable or even awkward but challenging yourself by doing new things will help you grow as an individual and make the most of your time at USF.
To support alumni like Perez, consider making a gift to the School of Education »