Alumni
USF Launches Sport Management Advisory Board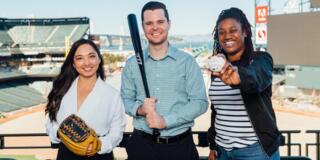 The University of San Francisco Master's in Sport Management program has launched the first-ever Sport Management Advisory Board. The board is composed of sports industry professionals who have experience across the industry including professional sports organizations, college athletics, and corporate partnerships.
The Sport Management Advisory Board has two objectives: raise funds to support fellowships for USF Sport Management students and support scholarships and sport management programming.
"Our number one priority is to do what is best for the students and help them excel in as many ways as we can," said Nola Agha, Sport Management Advisory Board faculty chair. "Sport management is an applied field which makes it important for us to connect students to real-life work experiences while they're in the program."
There is a critical need for more fellowships. After an audit of the Sport Management program, leadership learned that 42 percent of Sport Management students were first-generation college students while earning their bachelor's degrees. 
"Fellowships and scholarships help to recruit and retain a more diverse student body by providing opportunities to gain work experience and receive much-needed financial assistance while they are in school," said Agha.
Providing Eye-Opening Experiences
Michelle Gong M.A. '11 is one of ten USF graduates serving on the advisory board. As a Sport Management student, she received the 2011 Pat Gallagher Fellowship, a rotational internship with the San Francisco Giants.
"USF's strength is balancing real-life experiences and classroom learning to help students get out there and learn in a practical way," Gong said. "As a Pat Gallagher fellow, this hands-on experience in the sports industry helped me apply what I learned in class and was critical to identifying where I wanted to take my career after graduate school."
Gong credits the fellowship to providing an insider's look to a professional sports organization. As a fellow, she rotated through different departments and learned the inner workings of how they worked together to support the goals of the organization. For her, the experience was eye-opening.
"USF and the Pat Gallagher Fellowship presented me with the tools and resources I needed to succeed," said Gong. "This was a life-changing experience that helped me find a career that I love. I hope the Sport Management Advisory Board and I can help other students find their dream job too."
The Sport Management Advisory Board aims to identify additional fellowship opportunities from all over the sports industry ranging from professional sports to the fitness industry, to nonprofits. With a student body interested in varying aspects of the industry, the board sees it as crucial to provide as many varying opportunities as possible. But the students will not be the only ones benefiting from these fellowships.
"Not only will students receive valuable experiences, but the organizations that partner with USF will have the opportunity to identify their next great employee," said Agha. "We want to help companies focus on the students who are really passionate about this industry."
All funds raised by the Sport Management Advisory Board are part of Changing the World From Here: Campaign for the University of San Francisco. To learn more about the Sport Management Advisory Board, contact Devin Dougherty, (415) 422-7917, mddougherty@usfca.edu.