Engaged Learning
She's a Champion for New Teachers
Educator named to the state credentialing board
USF sociology and dual degree in teacher preparation student Grace Wakefield '16, MAT '17 recently beat out top California students to win a student liaison seat on the state's teacher credentialing board.
"I'm a voice for teaching candidates, which is critical because the credentialing board's decisions directly impact what we have to do in order to become teachers," says Wakefield, who joined the 21-member California Commission on Teacher Credentialing (CTC) in the fall. The board sets teacher standards and oversees testing and certification. 
The appointment puts her at the center of state discussions on how to reverse shortages of bilingual, special education, and STEM (science, technology, engineering, and math) teachers. It also involves her in a new initiative by the board to ensure teachers can demonstrate competence on socio-emotional and cultural issues as well as academic issues. 
"Teaching is my activism"
A native Bostonian, Wakefield chose USF because it allows her to earn an undergraduate degree in a field she loves, sociology, as a basis for a graduate teaching degree more quickly. She was drawn to the dual degree program for its critical pedagogy underpinnings, its embrace of social justice, and because she'll be able to graduate in five years with a teaching certificate. 
"My teaching is my activism, and USF has given me the theoretical and practical foundations to understand and discuss critical pedagogy — it's given me a lens through which to focus my future teaching," Wakefield says.
During the five-year program she's taken her sociological and pedagogical lenses abroad on immersion and study abroad trips, studying and teaching in Belize, El Salvador, and South Africa.
A fusion of fields
A multiyear President's Merit Award Scholarship recipient, Wakefield is co-president and co-founder of the Future Teacher Association club on campus, a social and professional support group for aspiring and current educators. She's also a co-researcher, with communication professor Brandi Lawless, studying how students perceive teachers' communication of emotions and how it impacts their performance.
Serving on the CTC board has been an invaluable experience that's enhanced her education by giving her a platform to create positive change, Wakefield says. "It's a space for me to take what I'm learning at USF and share it with a state governing body that can put it into action."   
After Wakefield graduates in May, she'll begin student teaching as part of the San Francisco Teacher Residency program and complete her graduate coursework in night classes. She plans to teach third to fifth grade.
Know someone with a powerful USF story? Let us know! usfnews@usfca.edu Twitter @usfcanews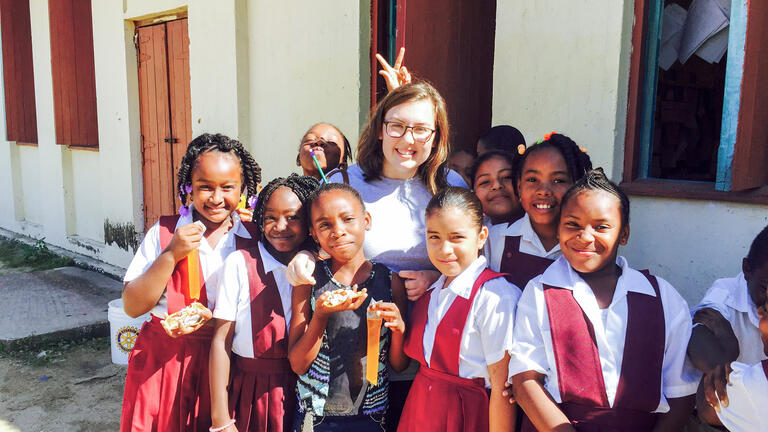 Grace Wakefield '16, MAT '17 taught in Belize as part of a USF immersion trip, before becoming the student liaison on the California teacher credentialing board.