Giving
Major League Baseball Partners on New Scholarship for Women in Sport Management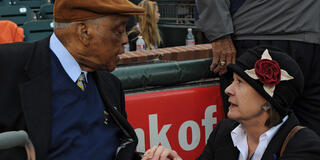 Katharine Feeney's entire life was spent in baseball. She grew up in ballparks across the country and worked her way up to become a top female executive in Major League Baseball (MLB).
When she passed away unexpectedly in 2017 on the day before MLB's Opening Day, her family wanted to honor her 40-year career by establishing a scholarship. The Feeneys chose the University of San Francisco and established the Katharine Feeney Memorial Scholarship Fund to benefit female students in the Sport Management program.
Feeney was the senior vice president of scheduling and club relations for MLB until she passed away, just a few months into her retirement. She is featured prominently in the Hall of Fame's "Women in Baseball" exhibit.
San Francisco Giants president and CEO Larry Baer called her "a longtime friend who left an imprint, not only on the Giants' organization, but all of baseball."
A Match Made in San Francisco
The Feeney family has a long history in San Francisco. Charles "Chub" Feeney, Katy's father, served as the Giants' general manager when they moved from New York to San Francisco in 1958. He became president of the National League after the 1969 season.
USF, meanwhile, has the largest graduate-level Sport Management program in the country. The program was established in 1991 in San Francisco, before expanding and also being offered at the Orange County campus in 2000.
The Feeneys' strong connection to San Francisco, as well as recommendations from the Giants' front office, convinced the Feeney family that USF should be the home for the scholarship.
"We were interested in creating a scholarship that supports more women in sports," said her brother, John Feeney. "That was Katy's life. We wanted to keep it local, because Katy had a strong connection to San Francisco. USF became a natural fit, because it has the Sport Management program."
John and his brother Charles "Stoney" Feeney said their hope is that the scholarship will have an impact on students and advance women in sports leadership.
The family started the scholarship fund at USF with a $200,000 gift from the 2017-18 MLB Winter Meetings charity auctions, which were dedicated to raising money to fund the scholarship.
"MLB and our clubs were proud to honor the great legacy of Katy Feeney through our Winter Meetings Charity Auctions, especially knowing that the funding would go toward providing a scholarship for a female student pursuing a career in sports," said Renée Tirado, chief diversity and inclusion officer, Major League Baseball.
In addition, MLB has promised an internship that will go along with the scholarship for USF students.
"Katy was a champion for women in our industry and I know she would be proud of the work we are trying to accomplish through this scholarship," Tirado added. "We are committed to placing the scholarship recipient with a summer internship in Major League Baseball, so we are excited to get this student at the University of San Francisco started on her professional sports journey."
Opportunity of a Lifetime
"We're so honored," said Brent von Forstmeyer, director of the Sport Management program at USF. "This opportunity is so important for our students. This will give one student each year the opportunity of a lifetime."
Eligible candidates for the scholarship will be female students who are pursuing a career in sports management and who also demonstrate a financial need to attain an advanced degree.
Letitia Blacksher '16, a graduate student in the Sport Management program who works for the Golden State Warriors, said she appreciates that the scholarship — and USF — recognize the importance of women in top-level sport management.
"This scholarship is a huge opportunity and shows that USF aims to truly foster more women in sports," said Blacksher, whose goal is to become a high-level sports executive. "Sports is a male-dominated industry, which can sometimes be intimidating. Often times, it can be a bit challenging for women to connect with their male counterparts. This scholarship will encourage more women to explore a career in sports while creating opportunity for long-term success."
It's important to get more women into sport management, she said, and the scholarship will help.
"The sport industry is diversifying, but there needs to be a stronger presence of female leaders in the industry," Blacksher said. "The presence of more women in the sport industry welcomes diverse thinking and cultivates a collaboration of different ideas on business decisions."
That's what the Feeneys want, too. Their sister, who volunteered each week to serve meals to women in a New York shelter, shared USF's values of supporting a more just, humane, and sustainable world. They feel like the scholarship is a natural fit for the university and its students.
"The hope is that this supports a student who becomes the first women commissioner of baseball, or the next NBA commissioner," said John Feeney. "We hope this makes a difference and helps students achieve a goal in their professional life."
Find out more about how you can support students at the University of San Francisco
This gift was made in support of Changing the World from Here: Campaign for the University of San Francisco.