Equipped to Lead and Succeed
A Safe Haven at USF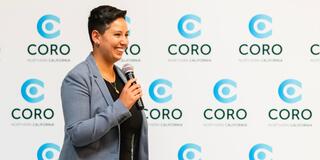 Erika Carlsen, '05, found a passion for leadership during her involvement with USF Latinx and Queer student alliances.
Erika Carlsen, who graduated from USF in 2005, is the Senior Director of Training at Coro Northern California, a nonprofit organization whose mission is to train, support, and connect leaders to foster a thriving democracy and tackle society's biggest challenges together. Since graduating, she has moved back to her home state, Utah, with a new understanding of the community there. She was involved with a variety of Latinx Student groups at USF, as well as the Queer Alliance. It was a path that then led to her interest in leadership roles.
How did your original intended path– if you had one– evolve throughout your time at USF?
I started as a politics major, intending to go to law school, but throughout my time I started to learn about and look more into Chicano Latina/Latino studies minors. I became involved with several groups on campus, such as Latinx groups and the Queer Alliance, which is also how I got involved in or became interested in leadership roles. I was really able to explore my identity during my time at USF, and I had a good support system.
Was there anything that displaced previous expectations of USF?
Coming from rural Utah, I knew San Francisco would be different, but I was still surprised by the diversity. It was my original intention to experience something much different than where I grew up. San Francisco was a sort of safe haven in 2005, specifically for queer people, which was a big reason for me in the first place. The diversity of USF's location was welcome.
What are you doing now, and is this what you expected to be doing before or even during college?
I'd originally intended to go to law school, be a lawyer, you know– that would've been an interesting path to take, but I'm glad I didn't end up on it. After graduating in 2009, I applied for Teach for America and a fellowship in public affairs, and I was accepted. The fellowship really introduced me to how interactions unfold, in the field of leadership development and training. I wanted to see what that looked like even more, which is how I ended up at Coro, where I am now. I'm back in Utah, too, which is something I wouldn't have expected at all– but I love it here, and I have no plans to move away anytime soon.
How did your time at USF lead into what you're doing now—what did you get out of it?
I think really fondly about that time in my life and the support I got at university. During the 2009 financial aid and housing crisis– my Dad was one of two employees at his own small company, which was hit really hard. I went to USF's financial aid to see if I could get anything to stay in school, and they did everything they could to help me. They must've been struggling too, but they still went out of their way. They were so supportive– so many people at USF were so supportive and caring during my time there. I just feel like I received a really good education.
Is there any advice you'd give to your freshman self?
I would say, "continue to give yourself the grace and permission to change." Sometimes we get stuck in these stories we tell ourselves about who we should be, and what path we should take, but it's important to understand that we are always subject to change. I expected my life to go one way, down this set path with law school, but I was able to find something I really enjoy. So, learn to appreciate different things in life. Everything's going to come at you at its own time. Actually, my other thought was, "buckle up, it's gonna be a wild ride!"
---
Are you interested in exploring your leadership skills within the USF community? Consider joining one of our alumni groups.