Faculty & Staff Achievements
Prof. Johnson Makes His Mark on Computer Science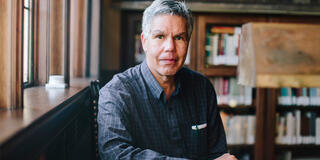 In Fall 2016, the University of San Francisco welcomed Jeff Johnson as Assistant Professor in the Computer Science department. Prof. Johnson is well known in the industry for his work on Human-Computer Interaction (HCI). His PhD in psychology sets him apart from other practitioners in the field, uniquely positioning him to examine how and why people interact with computers the way they do and ultimately improve computer designs for optimal user experience.
Prof. Johnson was recently recognized for his work on HCI, receiving a Lifetime Achievement in Practice Award from SIGCHI, the Special Interest Group on Computer-Human Interaction. SIGCHI belongs to the Association for Computing Machinery (ACM), the leading professional organization for the field of computer science. The award recognizes individuals who have made outstanding contributions to the study of HCI throughout their lifetime.
Although many corporations and academic institutions now study HCI, Prof. Johnson is considered a trailblazer of the field as one of its earliest practitioners. SIGCHI founder Ben Shneiderman even dubbed him an HCI Pioneer.
"His influence, academically and in practice, has been very large both through his own work and through the things he's written," Stanford Professor Terry Winograd said at the ACM award ceremony.
Working at the Xerox Corporation in the 1980s, Prof. Johnson worked on improvements to the Star Information System, which, as Johnson noted, "was an important event in the history of personal computing because it changed notions of how interactive systems should be designed." After realizing much of the tech world didn't understand Star, he took the lead role writing the widely read article "The Xerox Star: A Retrospective," which has since been taught in HCI Introduction courses at Stanford University.
Ever since his work on Star, Prof. Johnson has devoted his career to helping software designers and developers understand both the theory and practice of HCI. In addition to his active participation in ACM and SIGCHI, he served as the national chair for Computer Professionals for Social Responsibility and spent many years as a user interface and user experience consultant. But his most notable contributions to the field might be all the books he's written that continue to influence designers and developers.
As Winograd noted, many of Johnson's books stem from the idea that you learn more from things that don't work than things that do. Several of his books are centered on the concept of "bloopers" — errors in user interface design, why they don't work, and how to avoid them. Titles on this topic include the successful GUI Bloopers and the follow-ups, GUI Bloopers 2.0 and Web Bloopers.
Other notable works include Conceptual Models, which focuses on how to achieve solid web designs that decrease the need for training and customer support, and Designing with the Mind in Mind and Designing with the Mind in Mind 2, both of which examine the psychology behind user interface design rules.
Prof. Johnson continues to contribute to the field of computer science as he helps train its next generation of leaders at USF. He plans to develop research programs focused on designing based on the way people learn to use technology, as well as how to design technology in such a way that it doesn't exclude older adults. He even wrote a book about this, Designing User Interfaces for an Aging Population, which is slated for publication in March 2017.