Equipped to Lead and Succeed
Positive Coaching Alliance a Popular Destination for USF Students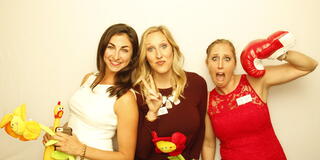 A nonprofit geared toward improving the lives of young athletes, the Positive Coaching Alliance (PCA) aims to build "better athletes, better people"; similarly, USF strives to be a force of change to improve the world. The overlap between the two organizations has allowed Sport Management students and alumni to apply what they learned in the program to the real-world sports industry.
Casey Miller MA '16 is one of those individuals. Miller joined the PCA team in 2013, starting out as a manager for partner support, national programs, and social media before working her way up to her current position as business development and marketing manager. In this position, she plays a significant role in the hiring process for PCA's San Francisco location.
As a USF alumna, Miller has an intimate understanding of the Sport Management program's curriculum and focus. She said her familiarity with the program has been beneficial when looking at prospective candidates from USF.
After going through Prof. Rich Cellini's class on leadership and understanding the mindset all the students have going into the program — from being personable, to working your butt off and being willing to do whatever is asked of you — when it comes time for me to hire an intern or find someone to join our team, I look to USF because they are teaching what we want in employees.
And in fact, numerous students and alumni have joined the PCA team, including Shelley Alingas and Katerina Peterson — many with Miller's help.
Peterson, a former marketing intern, said that Miller's support combined with the skills she gained at PCA played a huge role in her professional development, and helped her gain a better understanding of youth sports.
"I had never had an office position before, so I got to grow a lot in that internship role. Casey was always willing to help connect me to someone, answer any of my questions, and give me advice about working in the sport industry."
Because Miller previously worked as an event manager with Stanford University's athletic department, she was also able to connect Peterson with her current job at Stanford.
"I could not be more thankful for; it has become my second home," Peterson said. "Casey helped start a chain reaction of experiences for me since the beginning of my program."
For Alingas, a video production intern with PCA, the program helped prepare her for her responsibilities and get the most value out of her internship.
"The program teaches you to take opportunities that will give you the experience and skills to follow the direction you want to go," she said. "It also helped me communicate how I can add value to PCA, and to always be humble and grateful for opportunities like these."
As they work toward common goals, there is no limit to what USF and PCA can accomplish together — both on and off the sports field.