Campus Life
Online Learning Will Continue Through Spring 2021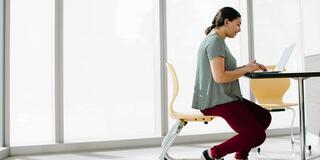 USF will remain a primarily remote learning institution for spring semester, with an eye toward reopening campus in fall 2021.
The university based its decision largely on the recommendation of the San Francisco Department of Public Health (SFDPH), which is calling for universities and colleges in San Francisco to continue remote operations.
Between now and spring, the provost's office will work with the deans for courses requiring specialized spaces and equipment. USF has safely opened the School of Nursing and Health Professions skills and simulations laboratories at the Hilltop, Sacramento, and Orange County campuses, as well as some graduate science laboratories at the Hilltop campus.
As USF looks to summer and fall 2021, the deans will explore the possibility of delivering courses through a "hyflex" method, in which students may join classes in person or via Zoom. Students who attend hyflex classes via Zoom may choose not to return to the areas near their campuses.
President Paul J. Fitzgerald, S.J. said that most students miss campus and would like physical places in which to connect and to study. "We will continue to engage with the SFDPH on the ability to increase socially distant study spaces that meet health and safety criteria," he said.
In an email to the USF community Oct. 8, Fr. Fitzgerald and Tyrone H. Cannon, interim provost and vice president of academic affairs, thanked students, faculty, and staff for their flexibility.
"Despite the challenges we face, we have a lot to be excited about and grateful for today, tomorrow, and in the months ahead."