Campus Life
As Coronavirus Cases Soar, USF Pivots to Online Learning for Fall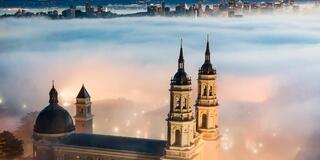 Classes will be online for the fall 2020 semester, in the wake of California Gov. Newsom's decision to roll back the state's reopening plans.
All academic courses — except for some clinical nursing programs — will be conducted on Zoom. The majority of faculty and staff will continue to work remotely, and there will be no residential housing for the fall.
"I know this news is disappointing for many, and I thank you for your patience as we implement and finalize all the details of our revised fall semester plan," said President Paul J. Fitzgerald, S.J.
One piece of good news: the U.S. Department of Homeland Security has rescinded an order that international students take in-person classes or risk deportation. USF's international students are able to take remote classes this fall.
The decision to move to online learning this fall was made when it became clear the San Francisco Department of Public Health was unable to say when USF would receive clearance from the state to reopen campus for in-person instruction. USF had said in May it was planning to include an on-campus option for the fall, if permitted to do so by the authorities.

"Unfortunately, the rapidly changing information and data regarding the pandemic's resurgent course requires us to pivot from that plan to our other remote plan," said Fr. Fitzgerald, adding that planning is underway and more information will be shared in the coming days and weeks.
"The coming semester will be very different for all of us," he said, "but together we will provide excellent academic and co-curricular programming and a safe working environment for all."