Campus Life
Nice to Meet You
In online meetups, incoming students get a taste of USF from a distance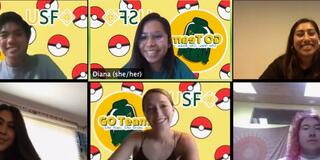 In this time of shelter in place, USF is conducting orientation sessions in summer — and online — for the first time.
"Because health restrictions prevent campus visits this summer, we're reaching out online," said Lamonte Stamps, director of first-year programs and family engagement.
In small-group sessions, incoming students meet current students and each other. "The goal is to get students connected and engaged before the fall semester begins," said Stamps.
Favorite Things
In each session, current student leaders from the GO (Get Oriented) Team share their knowledge of USF. In a recent meetup, one incoming student asked the current students their favorite things about the university.
"Each person at USF has a community. When you join a team or a club, you see those people on campus every day," said Alaap Bharadwaj '21.
"The city is amazing, the campus is beautiful, and the spirit of our campus just makes you happy," added Samilla Larkin '23.
Fun Fact
The students also played party games, starting with fun facts
"I have a French bulldog named Luna, and she's a grandma," said Alyssa Sanchez '24.
"I still can't swim. I know how to float like a pro, but throw me in the deep end and it's over for me," said Sudha Hebbala '22.
Two Truths and a Lie
Then they played two truths and a lie.
"My family is from Chicago, I'm TikTok famous, and I've had the same dog since kindergarten," said Cameron Banks '24.
"I'm from Singapore. I play tennis. I once ran with the bulls in Spain," said Alaap Bharadwaj.
"I've been to Honduras, I have two dogs, and I'm wearing purple pants right now," said Mickey Ferguson '24.
Best Advice
Near the end of the meeting, current students gave their best advice to their first-year selves.
"Get out of your comfort zone," said Sudha Hebbala.
"Reach out. Make friends in your dorm. Join clubs. Get involved," said Brandon Gagante '23.
Alaap Bharadwaj, the student who actually didn't run with the bulls in Spain, shared this thought:
"Take advantage of your freshman year. You'll be nervous at first, but it's the best!"
The online meetups continue through July.