Celebrating a Past of Preparing for the Future
Master of Science in Environmental Management Celebrates Forty Years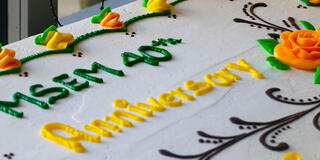 Dean Marcelo Camperi welcomed everyone and spoke of how the program fits into the University's mission; alumni from throughout the program's lifespan discussed their experiences in the program and their careers post-graduation; and Professor Allison Luengen spoke about the history of the program, presenting a slideshow commemorating students and staff from years gone by.
Following the passing of the Clean Air and Clean Water Acts of 1972, Joe Petulla noticed the demand for environmental professionals. With the assistance of Jim Brown and Stanley Nel, they developed a the MSEM program at USF. Since 1978, the program has given students an integrated background in policy and science necessary to solve the most challenging environmental issues.
Originally housed in the College of Professional Studies, the program later moved to the College of Arts and Sciences and was integrated with the Environmental Science Department. Up to this point, the MSEM program was taught entirely by part-time faculty. With the move, many full-time faculty were hired, improving academic rigor and range of classes offered.
"I think the most memorable points discussed during the brunch were the experiences of the various speakers," said Program Assistant Alex Pourfard. "We heard from graduates who went on to pursue careers with the government, private sector, and nonprofits. Each explained how the MSEM program at USF helped them achieve their career goals and opened their eyes to new opportunities in the field."
For Michael Mitrani '01, one of the alumni who spoke at the brunch, the program played a pivotal role in his career. "After Business School, I viewed success in economic terms. I was frustrated with the dichotomy between short-term corporate profits and preservation of our natural resources. I recognized I didn't have the science background necessary to lend credibility to my efforts to fully implement corporate sustainability programs. If I was going to be successful, I needed a deep background in science and environmental management."
Mitrani became the president of Earth Island Institute (2014-2017), where he currently sits on the board of directors, a non-profit which offers fiscal sponsorship to more than 75 environmental non-profits dedicated to conservation and restoration. Along the way, he realized a lifelong dream of working with his environmental hero, David Brower, a leader of the modern day environmental movement.
Just as it was environmental issues that sparked the program's creation, current threats to the environment still make it an imperative. Understanding the history of the movement, environmental law, and policy are more critical than ever. As Michael noted "When environmentalists win, we are only issued a short-term stay. When corporate interests win, often the environmental damage is forever."