Alumni
Making the Most of Second Chances
Graduate carries USF values into his work and his life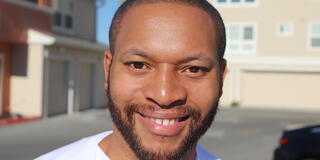 When a USF assistant basketball coach asked Jeremiah Williams '08 what he was good at, Williams said, "Well, I'm good with people."
That's how Williams chose his sociology major. Now he's in the business of being good with people.
As program manager for Bay Area nonprofit Abode Services, he oversees programs that place homeless people and families in affordable homes. Serving others is a passion he nurtured at USF. But it wasn't an easy road to graduation.
A Life-Changing Decision
Williams grew up in East Palo Alto, the second oldest of five kids being raised by their mother. He went to public schools until being accepted at the private Eastside College Prep high school on a scholarship.
At Eastside, he discovered that he was far behind his classmates academically. The administration gave him a choice: repeat the ninth grade or return to public school.
"I literally had not even an hour to make the decision," Williams said. "I was thinking about how hard it had been growing up with my mom, and the struggles we'd been through. And did I want to repeat that cycle?"
He decided to repeat ninth grade — and ended up graduating second in his class.
Hoop Dreams
Though Williams cared about school, he was far more focused on basketball. When USF offered him a walk-on spot on the basketball team, he jumped at it. He dreamed of becoming the best athlete he could be.
But when there was a coaching change his sophomore year and he wasn't getting any game time, he was disappointed. He left USF for Skyline Junior College, where he could play, and then he bounced to CSU San Bernardino and played a year there.
All the moving around hurt his grades, and he decided to drop out of school. "I was homesick, impatient, and made an impulsive decision," he said. He was far from home and didn't have a plan. He realized that, again, he faced an academic crossroads.
"I thought, 'If I don't go back to school, I did all that when I was younger for nothing,'" he said, thinking back to his decision to repeat ninth grade. He wanted to be the first person in his family to graduate from college. And he wanted to graduate from USF, whose campus and culture he'd fallen in love with.
Round Two
So, Williams went to community college and worked to get his grades up, hoping USF would admit him again. It did.
"USF gave me a second chance," he said. "I was definitely going to take advantage of it."
He left USF with a load of sociology classes under his belt and a refocused mind. After graduation, he landed his first professional role at Shelter Network, where he found he had a knack for case management, helping people work through applications for benefits.
Now he works at Abode, a nonprofit that uses the unorthodox "housing first" model. Unlike other programs, clients are placed in housing before they receive any kind of drug rehabilitation, job training, or other services. People are accepted for who they are at the time they're admitted.
Williams said the Abode model reminds him of USF, where, even though he'd taken a circuitous route, he was welcomed back.
"At USF, there was acceptance of everybody. You don't have to be this sort of person or this type of way to be welcomed," he said. "I think that my job and the school kind of have the same values."