Engaged Learning
Meet Your Professor: Hwaji Shin
Part of a summer series on getting to know teachers at USF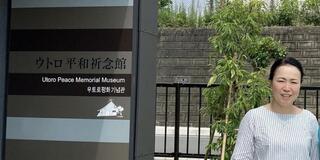 The associate professor of sociology talks about working on an Apple TV+ series, the benefits of the sociology major, and stress baking.
You worked as a content and cultural sensitivity consultant for the show Pachinko. What was that experience like?
My work focused mainly on the show's cultural representation of Korean minorities in Japan. For season one, I watched a pre-final cut of the show and mainly flagged any issues. Did the show depict this group sensitively, fairly, and accurately? I took detailed notes, reflected on things, and then put together a detailed report for the producer. I wanted to not only flag problems but also suggest solutions for them. It was intellectually intense. I will never watch a show in the same way again.
How did you end up doing this kind of work?
I received an email out of the blue from the producer. She'd read some of my publications on the topic of Korean minorities in Japan and wanted to talk. The show is based on a novel and to be honest, I hadn't read it when I got her email. I had avoided it because I thought, why would I want to read a novel about my family's trauma? But I knew that I wanted to talk with the producer, so I read the book in five days. I enjoyed the book, but there were things I disagreed with and because I was not 100 percent sold on it, I was motivated to help the producer nail it for the visual representation of the novel.
How did you decide to focus on Korean minorities in Japan?
I grew up as a Korean minority in Japan and I was always curious about why some groups become marginalized in a society, what is the history behind it, what are the social mechanisms. I wanted a more objective way to answer those questions. I have a personal answer to those questions based on my experiences but I wanted to be able to explain it in a way that I could share with a wider audience.
You just returned from a summer in Japan. What were you working on?
I was collecting the photos to use in my upcoming book about the history of Korean minority social movements in Japan, from the colonial period to the postwar and the present. It's essentially about the 100-year trajectory of the Korean struggle for social justice there.
Why USF?
I once had an unplanned flight layover in San Francisco and spent the day exploring the city. It left a wonderful impression. And once I got to know USF, the university's mission resonated with me.
What surprises people about the sociology major?
Its depth and versatility. We are very rigorous with our methodology and data analysis but at the same time we are always asking what does that mean for human communities. If this is the century of big data, then we need more sociologists to guide those data-driven decisions in a more ethical, humanistic direction.
Favorite hobbies?
Baking. When I'm under pressure or on deadline, I bake, and I bring everything into USF — scones, cookies, Bundt cakes. I also love inviting people over for a big dinner.
What types of food do you make?
It's always a hybrid. Even when I make a Western meal, there's always a Japanese or Korean flair. My Bundt cake is sometimes a matcha Bundt cake. I'll make chicken katsu for my son and then the next day I'll use that to make a chicken katsu burger.
What was your first job as a teenager?
My first paid job was working during lunchtime at a bento box place in Japan. It was so intense.  I hated it and I always smelled like deep-fried tempura. Before that, I worked in my parents' mahjong parlor as a kid.
Advice to USF students?
Don't be afraid to make a mistake. You'll make one, so you might as well get used to it. Just face that fear.