Equipped to Lead and Succeed
Meet Yordanos Solomon '22
USF Computer Science Alum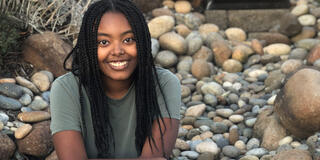 She talks about the opportunities she found at USF, her work with Amazon and Microsoft, and her current master's in computer science degree program.
Why did you choose USF for undergrad and grad school? 
I chose USF for undergrad because compared to the other schools that I was picking between, USF was the only one whose acceptance letter felt like they read my personal statement. For grad school it was more a choice of convenience than anything. I'm comfortable in the department and really like the setup of the classes and professors here, not to mention since I graduated a year earlier than my class, all of my friends from undergrad are still here to make the experience better.
How did your USF undergraduate degree prepare you for work in grad school?  
Because I've been a TA and also a tutor in the Learning Center, I've had experience in almost every area of the department. It definitely set me up for success in my first semester because many of the concepts we went over in the intro classes matched up 1:1 from work I'd done in undergrad.
What impact do you hope to make in the CS field?  
The CS field is dominated primarily by cis-gendered older white men, with only a few people of color added into the mix in many cases. As the only Black identifying person in the entirety of the CS Master's and Bridge programs, I can see why it's discouraging for other people in my community to want to break into the field, but I hope that seeing more of us represented in this field will encourage others to give it a shot.
If you had an internship as an undergrad at USF, how did your internship enhance what you've learned in the classroom or prepare you for your current position? 
I interned at Amazon in summer of 2021 and my work was done entirely in Java, so I think I was prepared really well by the curriculum here. A lot of the practices on my team were similar to the ones we learned in the software dev class here, just with more emphasis on the design of your code as well as its functionality. I am slated to go to Redmond this summer to intern at Microsoft, so I look forward to seeing how my grad classes have prepared me for this.