Meet Taryn Cunningham '23
USF Student and Entertainment Industry Intern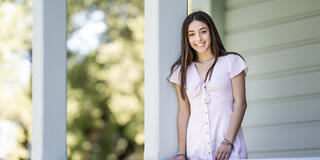 The communication studies student tells how USF prepared her to work with Wish and 2k Games, and where she is setting her sights next.
What drew you to USF?
I'm actually from the Bay Area, Walnut Creek. My whole family is from San Francisco, so I've always been immersed in the culture of the city. All my cousins lived here growing up, and I thought the city was fascinating. I wanted a good education, but I also wanted to experience city life at a young age, so I felt that USF offered me both. I've grown up going to private, religious schools. I'm very dedicated to my faith, so I wanted to continue that throughout adulthood. I wanted a close-knit community as well, and I also wanted to go to a small school. I felt that USF was great and offered me everything I was familiar with and looking for. It has definitely set a foundation for the rest of my life.
Why communication studies?
When I applied I actually declared media studies as my major; I wasn't really sure what I wanted to do. Growing up I wanted to do journalism, but journalism isn't offered at USF, so I was thinking of minoring in that. However, I've always been told by my family and friends growing up that I am a really good communicator, and that I'm really good at keeping up with all the trends, and really good at marketing myself. So rather than getting into marketing specifically or PR or journalism, I felt like Communication Studies was a really broad major that would allow me the leeway to go into any field that I wanted to within that range. So I decided to switch from Media Studies to Communication Studies to open up my opportunities, and the classes were really interesting too! 
Were there any classes in particular that stood out to you? 
I actually took a public speaking class [RHET 103]. Beforehand, I was really intimidated by that, but the whole class was really welcoming and made me feel more confident in those abilities. When I knew that I was in the kind of environment that allowed me to open myself up like that, it led me in the right direction to stick with that major [communication studies] and know that, since it is a small major, that I will be with a welcoming community throughout my four years. I just really wanted to be the best version of myself, and even if I was uncomfortable with myself at first, it really allowed me to grow as a person. So that was probably one of my most favorite classes I've taken, which if you would have asked me four years ago, I probably would have been scared.
Where did you first intern?
At Wish, the ecommerce platform. I was the employment branding intern for them. I worked closely with the talent acquisition team, just to help them in the process of looking for candidates, supplying for this program people applying for the entry level positions and the internships, and how to make Wish stand out in their job search.
What was your latest internship and what did you do there?
I was the global communications intern [at 2k Games]. I was working on the global comms team. I was helping them prepare for the launches of the new games. I developed a whole proposal for them and how to streamline the communication between the development team, the marketing team, and comms team, because they don't have that well of communication together. We do get a lot of backlash for that, just from consumers, because the timing is always off. So I proposed a whole plan, I made a synced calendar so they can streamline the communication. I also proposed hiring a new role in the company with someone who has development experience and marketing experience so they can get the best of both worlds. I also helped do a lot of PR for them. One thing I did was I developed a press list for our game called PGA Tour, versus another game called Live Golf, because it was a new kind of game and in-person league and also a competitor. Along with that, I did a lot of vetting outside opps for our marketing team and our CMO. I actually did write a press release for the Kevin Durant Charity Foundation, which was published on their website as well. So a lot of that kind of stuff. Every day was different, which I kind of liked.  The internship ended in December [2022]. I was there for four or five months. 
How did USF prepare you for your internships?
I definitely think USF prepared me a lot, especially the professors. I also met with Juli-Anne Brockway [in the Career Center] multiple times. She was super supportive and really helpful in my journey. USF being a small school, you can really build relationships with your teachers and other students to make connections. I feel like the community helped boost my confidence and I gained a lot of advice which I probably wouldn't have gained elsewhere.
Did your internship enhance what you learned in your classes? 
It definitely did. [In] my public speaking class, I wasn't very confident in myself. Going through this internship and constantly presenting to high level executives and other people on my team definitely translated into the classroom. I'm more confident in my work and just presentations as a whole. I definitely think that it also helped me get an idea of what I want to do because just having these different experiences — since Wish and 2K were both very different, I liked experiencing both of them because I kind of know what direction I want to go in. And I think too, just going back to school, a lot of comms classes are very project-based and research-based, and I feel those kind of go hand in  hand.
What would you like you to do career-wise?
I really want to work in brand marketing for a big corporation in the entertainment industry, so kind of combining both of what I did for Wish [and] 2K Games
Any advice you would give to students looking for internships?
Probably not to fear rejection. Everyone gets rejected at some point in their life. That was hard for me when I was applying for different internships. In the moment if something seems like the end of the world, it's not. It's going to lead you to that place you're supposed to be. It's definitely something that I wish I had been prepared for more, and I think people need to keep that in mind.