Equipped to Lead and Succeed
Meet Sly Pellas '22
Communication Studies Alum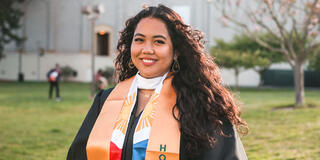 She discusses how USF prepared her for her work as a business immigration coordinator and her experience as a comm studies major.
Why did you choose USF? 
I chose USF for multiple reasons. I love USF's location, small class sizes, and emphasis on social justice. Another reason being that USF had all the majors and programs I was interested in. When I was only 17 and having to decide what career path to take, it put me at ease knowing I had multiple options at USF. I didn't go into USF as a communication studies major, but I felt safe knowing it was there in case I wanted to make the switch. Once I did make the switch, the transition was so seamless and I felt an immediate warm welcome to the communication studies program. 
How did your USF degree prepare you for this position? 
My USF degree gave me the confidence to succeed in the professional world. I learned so much about myself throughout my time as a communication studies major at USF. It helped me improve my work ethic and taught me how to set and communicate healthy boundaries in the workplace. Furthermore, the comms program was broad and flexible enough for me to take on two different minors that catered to my interests: legal studies and public service and community engagement. The program allowed me to discover my passion in the legal industry by helping make legal services more accessible to people. 
What impact do you hope your work in this field will have? 
I currently work for an immigration law firm. My job entails a lot of internal and external communication within my team and our clients. The immigration process can be tough and complex for some clients especially when trying to juggle a job, moving to a new country, and other personal matters. I hope my work provides ease and comfort for our clients as they go through very life-changing events.