Equipped to Lead and Succeed
Meet Simir Cooper '22
USF Graduate and Data Scientist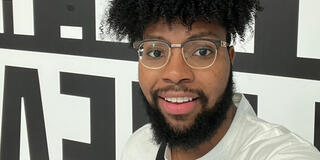 He explains what drew him to USF, his work at Vinanai Systems, and his goals for the company.
Why did you choose USF?  
I went to a Jesuit high school in Jersey City, New Jersey, and my guidance counselor recommended USF. I wanted to be in a community that had strong Jesuit values, get a good education, and USF has a good data science program. I already had a little bit of programming experience, and I like math a lot, so I was wondering how I could combine mathematics and coding. USF had the perfect combination in their program in data science.
How did USF prepare you for your position?  
The data science program in general gave me a great foundation for a lot of things I'm doing on a day-to-day basis. I usually use the language Sequal (SQL) for work, which I took two courses on at USF and they prepared me very well for that. Also, my classmates helped me to broaden my horizons and to acquire new skills. Everyone at USF supported me. They not only nurtured me academically but they nurtured me personally and helped me with my development.
At Vinanai Systems, I like to say I'm a jack of all trades. I wear many hats. I find and source my own data, do exploratory data analysis on it, and make models to focus on issues we're interested in. 
What impact do you hope your work in this field will have? 
We work with a lot of major companies that impact the daily lives of everyone. I'm hoping to continue working on these large projects and improve the overall quality of life for individuals in banking and health care.