Equipped to Lead and Succeed
Meet Riya Bhandari '25
Dean's Scholarship Recipient
Image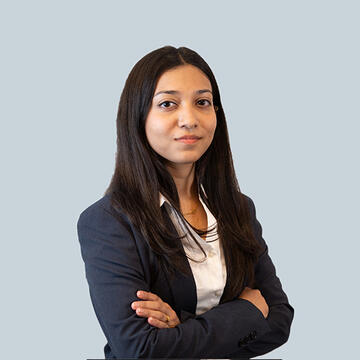 Where are you from and what is your background?
I'm from India and completed my bachelor's degree in civil engineering from Guru Gobind Singh Indraprastha University in New Delhi, in 2020. Following my graduation, I undertook internships and volunteer roles in several environmental organizations to gain insights into the environmental sector. In 2021, I began my professional journey in the climate change domain by interning with the Climate Policy team at Shakti Sustainable Energy Foundation. Within a two-year timeframe, I was promoted twice, eventually holding the position of Assistant Program Manager.
Why did you apply for this graduate program and decide to study at USF?
I've always been eager to enhance my technical abilities and deepen my understanding in the realm of energy. Pursuing studies on an international stage has been a long-standing aspiration, and the opportunity to study the MS in Energy Systems Management at USF represents the realization of that dream. The ever-evolving and expansive nature of the energy sector captivates me. This master's program offers the exposure and foundation I need to cultivate expertise and contribute meaningfully to my community.
What impacts has the Dean's Scholarship had on your ability to further your studies?
The Dean's Scholarship has provided the financial means to pursue my education at USF, significantly influencing my decision to study here. Coming from a middle-class family in India, the idea of studying in the United States seemed out of reach. However, thanks to the support extended by the university through the Dean's Scholarship, my dream of studying at a renowned international institution has been realized.
What are your career ambitions?
The energy sector deeply intrigues me. Coupled with my interest in addressing climate change, I'm eager to immerse myself in the intersection of energy and climate. Given the global momentum towards cleaner energy grids and the shift from fossil fuels to sustainable energy sources, I'm passionate about contributing to this crucial energy transition. I envision myself in roles such as an energy analyst or a project manager overseeing energy assessments and projects centered on climate mitigation.
What is something unique or interesting about you?
One thing which is unique about me is the curiosity which has led me to a developed economy to work with world leaders. My curiosity has always pushed me to do more and think outside the box. It motivates me to delve deeper in my areas of interest and focus more on the path I have taken. I think it is the constant nudge which makes me work even harder and never lets me sit idle. I believe this has been one of the qualities which has helped me in my career path and personal journey.
The Dean's Scholarship recognizes a select group of incoming students in graduate programs, who the admission committees believe will make a substantial contribution to the programs. Recipients are selected based on merit. To be considered for the Dean's Scholarship, students must apply to their program by the program's priority deadline.
College of Arts and Sciences
News