Engaged Learning
Meet Your Professor: Louise Goupil
Part of a summer series on getting to know teachers at USF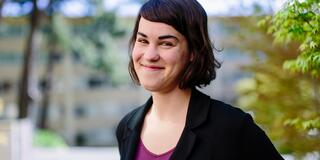 Louise Goupil, assistant professor of biology, talks about the science of questions, the comfort of boba, and the need to ask for help.
Which courses do you teach?
General Biology 1 and 2, Cell Physiology, Molecular Biology, and a first-year seminar called Good Germs, Bad Germs.
Why USF?
Teaching is exactly what I wanted to do, and the faculty here are all kind, open, and willing to help. I admire that all USF students are concerned about giving back and being a part of a community. I identify with that desire to help others, and it's great to see that in my students as well.
Your favorite place in San Francisco?
Dolores Park or Twin Peaks.
What's something that might surprise people about this major?
People enter the scientific fields thinking they'll learn all the answers here. But science is not a collection of answers — it's a collection of questions we have to ask. Just like learning a new language, you start by learning the vocabulary — this is a gene, this is a chromosome — but then you have to synthesize what you learn to be able to explain it to someone and speak the language.
Favorite apps on your phone?
Instagram and the New York Times crossword app.
Comfort food?
Boba! I just got tapioca pearls so I can make boba at home.
What's an average Saturday look like for you?
Watch an Arsenal game, usually a hike of some kind, get croissants, see friends, and cook food.
What's your best tip to students for online learning?
Stay organized. Time management is a valuable skill, especially in an online setting.
Any other advice to incoming students?
Ask for help. In college, you're going to need help, so don't be afraid to ask for it. USF has so many resources; you just need to find them and use them. Your professors are here because they want to help you learn, so go to their office hours.
Connect with Professor Goupil at lgoupil@usfca.edu.