Equipped to Lead and Succeed
Meet Kevin Sarmiento '24
USF Engineer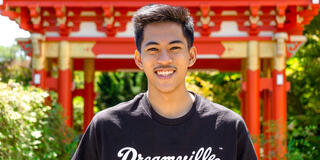 He talks about engineering, internships, inspiration, and Disney.
Why an engineering major? 
Growing up, I was always tinkering with things. In my high school, I was in the technical theater crew, so I was helping build sets. I even did sound engineering and played with the lights as well. So, engineering in some way or another has always been a part of my life, and I think USF is helping me grow that interest and develop it.
Why USF?
Being born and raised in the Bay Area, I was always drawn to the city and hearing that USF was going to have an inaugural year for engineering when I was joining, I was immediately drawn to that because I wanted to help pioneer and shape the program.
Was there a class that helped grow your interest in an engineering major and computer engineering concentration? 
I did always want to be an electrical computer engineer, but in particular, Sensors [and Instruments Through] History and [Intro to] Digital Electronics supplemented my interest in the concentration. I do like history, and I love engineering. Seeing a mix of the two [made for] a great class. We got to be hands-on while also knowing why we developed these things, how we did it, or how the scientists at the time did it with such limited information or resources.
Your favorite projects at USF?
For our Sensors and [Instruments Through] History class, we did a project where we created an invention, but in a time before that invention was made. So my partner and I made a lighter, but in the 1600s, and we used the objects that were available at the time, so we really had to do our research and think. Even during our presentation I found a Google Slide template that was like papyrus, and I really got to show off a little bit there.
For our engineering capstone, we were given a survey of what we want to do as a possible project. I don't know if you've been here around for the Tuesday noon siren in San Francisco, but they took it down for maintenance in 2019 and it has not been replaced because of COVID delays. Fixing the siren is definitely a bucket list item of mine.   
Where are you interning?
I'm currently interning at the City of South San Francisco's Engineering Department within the Department of Public Works.
What do you do there?
I process encroachment permits for projects that deal within the public right of way. Typically, that would be PG&E  and utility companies, but we also work with the public. Particularly in my position, I've started leading the traffic advisory committee where we get feedback from the public regarding traffic safety and we do our own research to see if their requests are merited or not. 
  
What has been your favorite or most surprising thing about your internship so far?
When I took the internship, I just didn't know what to expect in the real world. But the engineering department has prepared me well enough to adapt to my surroundings and has just prepared me well overall. I remember in my first semester ever, we took a class called Becoming An Engineer. We were able to make a plan out for the four years of our college careers, as well as skills we want to develop, skills we already have, and skills that we want to improve on. I think that's a big one that has prepared me for my internships and just life as a whole.