Equipped to Lead and Succeed
Meet Jacqueline Ornelas '21
Sociology Grad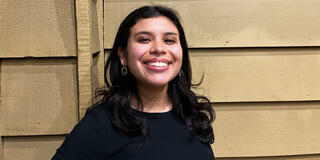 She talks about how USF prepared her for her work as a community wellness specialist and how she hopes to improve the child welfare system.
Where do you work and what is your role? 
I work as a community wellness specialist for a Los Angeles County-based nonprofit named Sycamores. My role requires me to provide behavioral and case management support services to children 0-18 years old, parents/caregivers, and overall support to the entire family. Many of the children on my caseload need mental health services, have a history of child abuse or neglect, and/or are currently in foster care. I engage families in rehabilitative sessions that provide coping skills, parenting support, and recommendations to help create healthier and happier homes. 
Why did you choose USF? 
I chose USF for my undergraduate degree in sociology because of the university's vibrant community and dedication to social justice. Additionally, I was drawn to the small and personal class sizes, where you can connect with your professors and deeply engage with what you are learning. 
How did your USF degree prepare you for this position? 
The sociology department at USF provided classes that challenged my worldview and encouraged me to think critically about societal norms. Throughout my undergraduate years, I participated in the Esther Madriz Diversity Scholars and Community Empowerment Activists programs which gave me hands-on experience in community engagement, public service, and a deeper understanding of systemic injustices. My degree taught me the intricacies of society, the systems that impact the individual, and how to be proactive about creating equity. These ideas play a vital role in my position now, as I empower families and help them navigate the child welfare system, the impact of trauma, and other mental health needs. 
What impact do you hope your work in this field will have? 
I hope my work reflects the resilience and strength of marginalized communities and challenges the idea that individuals are not worthy of rehabilitation and forgiveness. I strive to keep more children out of the child welfare system and families together by uplifting the love already present and providing support to ensure healthy and safe homes.