Equipped to Lead and Succeed
Meet Damian Ochoa '25
Dean's Scholarship Recipient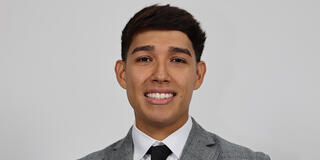 Where are you from and what is your background?
I am a native of Orange County, born and raised. I earned my undergraduate degree at Chapman University, majoring in Political Science and minoring in Entrepreneurship. Sports have always held a significant place in my life, leading me to realize from a young age that a career in the sports industry would enable me to contribute to the success of others and assist them in reaching their aspirations.
Why did you apply for this graduate program and decide to study at USF?
My decision to apply to the MS in Sport Management program was rooted in several compelling factors that resonate with my academic and career aspirations. First and foremost, the university has an influential alumni network, which creates opportunities for mentorship, networking, and guidance. Knowing that I can tap into the wisdom and experience of successful alumni is a tremendous asset in my pursuit of personal and professional growth. USF's commitment to providing an environment that allows me to work full-time and study full-time was a significant factor in my choice. This flexibility is invaluable, as it allows me to continue gaining experience in my current job while simultaneously pursuing my education. This balance between work and academic life not only enhances my professional skills but also ensures I can apply what I learn in real-world contexts. Furthermore, USF's resources, both in terms of academic support and career development services, was compelling.
What impacts has the Dean's Scholarship had on your ability to further your studies?
The scholarship has provided me with the opportunity to concentrate on my studies without the burden of student debt. By covering my educational expenses, it alleviates the stress associated with financial concerns and enables me to pursue my dream of becoming an NFL agent, establishing relationships with those around me, and continuing to excel in and out of the classroom.
What are your career ambitions?
My life's aspirations revolve around my ambition to excel as an NFL agent, ultimately establishing my own agency. My vision extends beyond the NFL, with plans to expand my reach into various sports and even the entertainment industry, where I aspire to manage hip-hop artists. My broader goal is to leverage my platform and network to provide opportunities for individuals with extensive sports knowledge but lacking formal education, much like the success story of Rich Paul, a thriving NBA agent and entrepreneur who defied conventional educational paths. In the world of sports, I've encountered numerous individuals with remarkable expertise and high IQs, and my ultimate aim is to pave the way for them.
What is something unique or interesting about you?
I am the second eldest among four brothers, and our home resembled the atmosphere of an NFL stadium on game day. Our home was a constant whirlwind of activity, with my siblings and me playfully roughhousing, tossing balls carefully trying not to break anything, and, particularly on Sundays, hosting our extended family for NFL game gatherings. Throughout it all, one thing has remained abundantly clear: family holds the utmost significance in my life. Without the unwavering support and love of my family, I wouldn't be the person I am today; they have played an instrumental role in shaping my character and values.
The Dean's Scholarship recognizes a select group of incoming students in graduate programs, who the admission committees believe will make a substantial contribution to the programs. Recipients are selected based on merit. To be considered for the Dean's Scholarship, students must apply to their program by the program's priority deadline.
College of Arts and Sciences
News