Equipped to Lead and Succeed
Meet Chloe Willson '25
Dean's Scholarship Recipient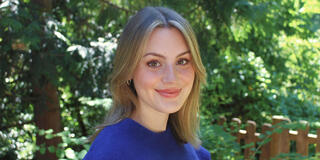 Where are you from and what is your background?
I am from Portland, OR, and recently received my BS in Economics and International Studies from the University of Oregon. During my time there, I interned at public policy and software companies. I also completed an undergraduate research project and thesis looking into the effects of the 2020 Medicaid expansion on mental and physical health outcomes in the US.
Why did you apply for this graduate program and decide to study at USF?
As my undergraduate program was coming to an end, I was interested in finding an opportunity to build out my skills and experience in programming and economic analysis before beginning my professional career. The MS in Applied Economics program at USF was the perfect fit for me. Between the intensive curriculum and experienced staff and faculty, it was clear to me that this program was going to teach my peers and I how to apply our skills far beyond the classroom, in the realms of policy, business, and technology.
What impacts has the Dean's Scholarship had on your ability to further your studies?
The Dean's Scholarship made it possible for me to successfully pursue this degree and commit myself to my studies while I am here. It has allowed me to give the time and effort towards my classes that I need to succeed. Because of the Dean's Scholarship, I feel more confident and supported as I enter my first year in the program.
What are your career ambitions?
I hope to work in public policy, using my skills in economic research and programming to better understand and develop solutions for urban, environmental, and monetary problems in the United States. I am interested in working either in government, or in economic policy consulting.
What is something unique or interesting about you?
I love running. I ran my first race in Oregon this past spring, and I am looking forward to running my next in San Francisco soon. It's been such a great way to explore the city in my first month here.
The Dean's Scholarship recognizes a select group of incoming students in graduate programs, who the admission committees believe will make a substantial contribution to the programs. Recipients are selected based on merit. To be considered for the Dean's Scholarship, students must apply to their program by the program's priority deadline.
College of Arts and Sciences
News