Engaged Learning
Meet Your Professor: Beste Yuksel
Part of a summer series on getting to know teachers at USF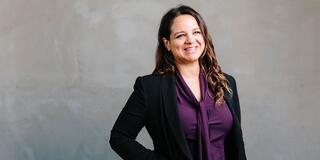 The assistant professor and faculty adviser for the Women in Tech club talks about her virtual reality research, the importance of mental and physical health, and how to view the Milky Way on an app.
What's special about computer science at USF?
Our classes are capped at 30 students. As a result, students get a lot of one-on-one attention from the professor and the teaching assistants, and that's where a lot of the "aha" learning moments happen.
What's something that might surprise people about the computer science major?
The ability to do good in the world. If you know how to program and you understand technology, then you have the power to help people in many different applications. It's in line with USF's motto of "change the world from here." CS is also extremely exciting and cutting edge. I believe it's the most exciting topic you can study.
Tell us about your research.
My research lab focuses on two areas: One is on brain-computer interfaces. We use machine learning techniques to detect and analyze brain signals and respond to them in real-time. The other area is virtual reality. I have people embody avatars of different genders and identities to increase empathy and reduce biases. In my lab, your physical movements are tracked so that you can see your physical movements in a different virtual body and view yourself as a different identity.
Any advice to incoming students?
Keep up your mental and physical health. The shift from high school to university can be quite jarring, so give yourself time to adjust. College requires a lot more self-motivation and independence. Take the initiative to contact your professors, go to office hours, and ask questions. Professors at USF are here to help you.
Favorite VR app?
Google Earth VR. Even while in lockdown, you can visit the Himalayas or hover above Earth and see the Milky Way.
Connect with Professor Yuksel at byuksel@usfca.edu