Equipped to Lead and Succeed
Meet Alexis Hall '24
USF Student and NAMI Volunteer
The psychology student describes how USF has prepared her to succeed in her volunteer work at the National Alliance on Mental Illness.
Image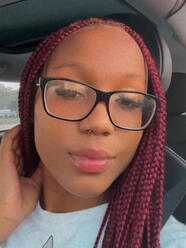 Why did you choose USF?
I decided to attend USF because I was so drawn to what the school stood for. Attending college in California has always been the dream since I was young, but to find a school that valued diversity and social justice so much seemed like a no-brainer to me. Being able to go to a school where there was genuine care for its students is such a valuable part of what makes a college experience great and USF has that. A college experience extends far beyond the classroom and USF has made it their mission to foster students' agency and provide them with a well-rounded education to go and hopefully change the world which is a journey that I am very grateful that I get to embark on. 
How have your classes/professors prepared you for this internship?
My professors have done a great job at making me feel supported and encouraged as I've continued to work with NAMI. Due to my classes, I have brought a strong sense of understanding and a level of knowledge to NAMI which has allowed me to empathize with a lot of beautiful people in a way I never imagined. Being able to understand the complexity of human nature is key to the work NAMI does, and my psychology major background has laid a foundation that I have been able to carry with me and build off of.
How does this internship enhance what you've learned in the classroom?
The time I've spent working with NAMI has enhanced what I've learned in the classroom by giving me firsthand experience in translating what I learn to real-life situations. In my classrooms, we are taught about the human mind and behavior and through NAMI I've been able to see how that can manifest in real life. Coupling my learning in the classroom with the work done with NAMI has been very rewarding as it helps me to reinforce my learning and understand the nuances of psychology in a way that may not necessarily happen in a classroom. Being able to have both is crucial in taking the necessary steps to become a successful clinician in the future.