Global Perspective
MA in Asia Pacific Studies Fall 2017 Newsletter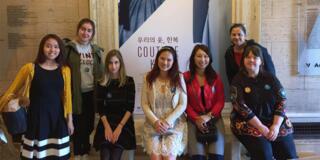 Now in its 24th year, the MA in Asia Pacific Studies program (MAPS) welcomed a fall cohort of 24 students from diverse regions of the world. China, Israel, the United Kingdom, Poland and Thailand are some of the places our students call home.
Here are some of the highlights of the 2017 fall semester.
Professor Brian Dempster awarded sabbatical
We congratulate our distinguished Director of Administration for MAPS, Professor Brian Komei Dempster, on being awarded a sabbatical for the fall semester. Brian's work and poetics about the so-called "American concentration camps" during WWII brought together in September a wide-range of first-and second generation Japanese American authors for a reading of their memoirs and histories. Brian also helped to coordinate an exhibit in the Gleeson Library art gallery of objects, paintings, sculptures, and other items crafted by Japanese Americans imprisoned in the camps. We are proud of Brian for his leading role in keeping this important period of American wartime history so vital and accessible to USF students and the general public.
Two new faculty members
We welcomed two new faculty members to the program. Professor Leslie Woodhouse, who has been serving as assistant managing editor for the Center's online journal Asia Pacific Perspectives, led the second section of the "Society and Culture in the Contemporary Asia Pacific" seminar. Leslie's degree is from UC Berkeley History where she has researched and published on women's roles within Thai royal households in the 19th and 20th centuries.
We are also happy to have Professor Matthew Berry teaching the second section of the first-semester gateway seminar, "Histories and Modernities in the Asia Pacific." He is currently finishing his dissertation at UC Berkeley with a research focus on 20th century Vietnamese history and nation-building.
We are deeply grateful to both Leslie and Matthew for their significant contributions to the program.
Excursions
An excursion by ferry boat to Angel Island state park (located in the San Francisco bay not far from Tiburon) took place on Oct. 21st. The small but energetic group of seven students explored some of the historical military sites as well as the newly refurbished immigration museum that documents U.S. policies (based on race and other factors) in the early 1900s. Rumor has it that the MAPS group walked the entire 9 mile circular path around the island and survived with no injuries or blisters.
A second MAPS excursion of around eight students took place in early November at the Asian Art Museum in San Francisco. The opening of a new exhibition on Korean fashion coincided with an afternoon of events, music, talks, and art designed to attract a younger clientele.
Students Presenters
2nd year student Desmond Doulatram attended international conferences as a paper presenter in Bern, Switzerland ("Human Rights, Future Generations & Crimes in the Nuclear Age" at the University of Basel, Switzerland) as well as a conference at Humbler College in Toronto, Canada ("Social Justice Under Siege").
2nd year student John Ostermiller attended the Southwest Anthropology conference in September as a presenter, and later gave several lectures at American River Community College in Sacramento about Japanese anime and global media, as well as about his experiences with the Kakehashi study tour to Japan (Jan. 2017).
Three second year students, Lu Han, Bolor Lkhaav, and Lance Ekelund, had paper proposals accepted for the 18th East-Center Graduate student conference to be held in Honolulu, Hi., in mid-February 2018. MAPS provides partial funding for conference costs and strongly supports student participation in national and international conferences.
Workshop on "cultural competency"
Many students participated in a workshop on campus sponsored by the Center for Asia Pacific Studies on the topic of "cultural competency". Led by Ms. Keiko Sakurai from a local international consulting firm in San Francisco, the workshop consisted of case studies in the cultural dynamics that shape workplace relationships and power hierarchies in Japan and elsewhere Japanese companies operate in the world. Of particular interest to many students was the distinction between totem behavior that ensures smooth social interactions and hone behavior that allows for more emotional and personal expression.
Looking forward
As these various news items suggest, the MAPS program is prospering and growing as it approaches a quarter-century of service to the university, the San Francisco bay area, and to our wonderful students. Stay tuned for future announcements about an on-campus film screening of "The Chinese Exclusion Act" in February and a series of seminars in October 2018 on the topic of "the Sacred Art of the Himalayas."
John Nelson
Academic Director