Alumni
Leaning Into Gratitude and Finding Connections
Five Questions with Crystal Vega '18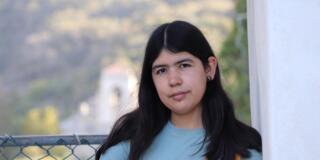 As a member of the Latinx Alumni Society, Entertainment Industry Group, Southern California Regional Council, and Pride Alumni, Vega is staying deeply connected to their alma mater and plans to continue building genuine relationships within the university community for years to come. 
What does "Changing the World From Here" mean to you? 
When I reflect on what it means to Change the World From Here, I think about two versions of "here:" my physical location in space and where my life is right now. Changing the world from my physical location means starting with deep listening and centering people, including young people, in any type of change. 
In 2020, I came out as non-binary at work and have dedicated my professional career to creating workplaces where everyone can show up as their most authentic selves. So at this point in my life, Changing the World From Here means working in employee engagement and serving as a LGBTQ+ life coach to help others as they navigate showing up at work. 
Looking back at your time at USF and the years spent after graduation, what is the impact that USF has created in your life thus far as a member of the Latinx community? 
My time at USF was a period of self-discovery. During my freshman year, I joined Latinas Unidas and was welcomed by an incredible community of mujeres. Through my Critical Diversity Studies classes, I volunteered at APIENC, an organization dedicated to building power and community for LGBTQ+ members of the Asian and Pacific Islander communities, and I learned more about the long and beautiful history of non-binary gender identities across the globe. Once I started to come into my own non-binary identity, these groups helped me find Latine spaces at the intersection of being LGBTQ+ and Latine, like Somos Familia and Galería de la Raza. There is such beauty in nuance and finding ways to honor all parts of ourselves. USF has given me a lens for honoring others and ensuring our workplace cultures and policies do the same. 
What inspired you to become a board member for USF's Latinx Alumni Society? 
True to my time at USF as a double major with a minor, I did not just join the Latinx Alumni Society. I joined four different alumni organizations. Being Latine is one piece of my multifaceted identity and experience, and I was so excited to show up in as many ways as possible. I have been leaning into opportunities to give back and received such a wonderful homecoming from the USF alumni staff and all the alumni societies. It has been incredible to connect with other alumni at different stages of their lives and careers who are all working together to support current students and a university that gave us so much. 
Is there someone, such as a professor, peer, coach, or advisor, that had or continues to have a substantial impact on your college experience? How?
The person who continues to shape my ethos is professor Melissa Canlas. She extended me so much grace and compassion during one of the most difficult years of my life. Professor Canlas introduced me to intersectionality and revolutionary love and, for me, is an embodiment of leading with love at work, school, and home.  
What is a piece of advice you can give to current Dons? 
Give yourself permission to explore and play during your time as a Don. USF is a place that allows you to feel supported as you try on new roles and responsibilities. I learned so much about myself at USF and how I want to show up in the world. I am so excited for you all to start and continue your learning journeys. 
Connect with other alumni like Vega and join a USF alumni society today.
To support students who are pursuing impactful careers like Vega, consider making a gift to the College of Arts and Sciences and Changing the World From Here: Campaign for the University of San Francisco.