Engaged Learning
KTVU Interviews Student Curators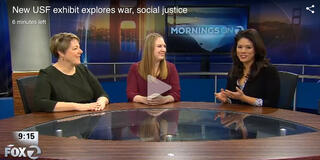 During the KTVU interview, Lawhead said it's a very powerful exhibit that ties into trends of socially engaged art by exploring the recurring, senseless, and perhaps inevitable nature of war.
The exhibit launched two days after the 2016 presidential election, which Turner said ended up being excellent timing, as the exhibit's themes tie into so many topics that came up during the election, including equality, social justice, and the impact of violent rhetoric.
Lawhead added that the exhibit provides USF students and others a way to reflect on their feelings about the election in a way that's more impartial, historically based, and perhaps easier to handle.
"That's the power of socially engaged art," she said. "It's timeless and allows people to view their perceptions on a wide range of issues."
The Depravities of War will be on display through Sunday, Feb. 19. The exhibit is free and open to the public to view between 12 and 6 p.m. everyday.