Giving
Investing In Education Before Graduating From His Own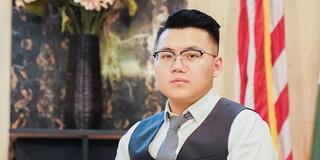 For many graduating seniors, 2020 has had a tremendous impact on their final semesters in college, one that will likely stick with them well beyond graduation. But the USF community continues to rise up in the face of adversity, and for one senior in particular, this time of crisis became an opportunity to give back.
After recognizing the need for more resources within the university's undergraduate Data Science program, Rock Gu '20 took matters into his own hands and decided to make a donation of $8,395 to the program.
His gift fully funds a cluster of graphic processing units (GPUs), giving undergraduate students access to high-performance computing technology.
As he progressed through the program's curriculum, Gu recognized there was a gap in resources that were made available to undergraduate students in comparison to those allotted to graduate students and faculty.
He found himself constantly taking hundreds of dollars out of his own pocket to pay for the computing power needed to complete his work efficiently, and he wanted to find a way to help other students who were in the same position.
After accumulating a significant amount of funding from his success within the stock market, Gu now had a tangible way to bring his goal to life and benefit other students in the process.
Paving the Way for Future Generations
Gu connected with David Uminsky, the executive director of the Data Institute at USF, and discussed his specific plans for the gift.
Uminsky said that not only would this open up an immense level of opportunities for undergraduate students, but it would also shift the dynamic of the program as a whole.
With these added resources, Uminsky said the program's faculty would be able to build academic research programs that would specifically compliment the use of the GPUs for the students.
As a result, undergraduate Data Science students will be gaining the opportunity to reach a higher level of research similar to that of current graduate students.
"I think gifts like these really represent that the University of San Francisco is the right place for students' education and their research ambitions and that it's well supported," Uminsky said. "I think that a gift from such a (soon to be) young alumni really is a testament to the impact of the education here at USF and that more are welcome."
The Effects of 2020
Talking about the gift and what it meant to him allowed Gu a moment to smile and laugh. With the uncertainty of where the rest of the year would take him, he shared that the COVID-19 pandemic has affected his safety in addition to his senior year.
"I'm from China and that has caused a lot of race problems. Especially for the Asian people," he said. "I think that in the future, after this pandemic, the political structure for every country will change a lot."
However, Gu emphasized the importance of creating balance in the world, especially during these times. Specifically, he aimed to encourage more people to make gifts as he did if they are in the position to do so.
"If you only think about yourself, one day the rich will become richer and the poor will become poorer. Society will not become stable," Gu said. "So, I think investing in education is always right, no matter how much it is. I think everybody will benefit from that."
The Will to Continue Forward
Gu's advice to current students and those aiming to have similar success is to remain positive and to always work hard.
"If you are working hard every day, every single moment, you will be well. You will," Gu said. "Also think about what kind of contribution you can make to society,"
With those mottos in mind, Gu has been generating a considerable amount of success in the stock market since the age of thirteen and continues to do so as the president of USF's Stock Investment Club.
Uminsky believes that the drive and generosity that Gu has exemplified throughout his undergraduate career is part of what it means to truly be a USF Don.
"It's someone who is a problem solver, someone who has cura personalis in their heart, and someone who will look out at the world and search for problems to solve to make it a better place," Uminsky said.
With the tools he's been able to acquire through these accomplishments, Rock hopes to continue fostering global change and he's not slowing down any time soon. In fact, if things go accordingly, Gu is hoping to lengthen his time at USF a little longer within the MS Data Science program.
"It's just the beginning," Gu said.
To learn more about supporting programs in the College of Arts and Sciences like the Data Institute, contact Carli Thomas, Director of Development, College of Arts and Sciences at (415) 422-6006 or cbthomas@usfca.edu.
Support is still needed in many areas as the situation continues to unfold worldwide. So we can continue to support our global USF community, please consider giving to the COVID-19 Response Fund.
This gift was made in support of Changing the World from Here: Campaign for the University of San Francisco.