Campus Life
Faculty Panels on COVID-19 Begin With a Focus on Building Solidarity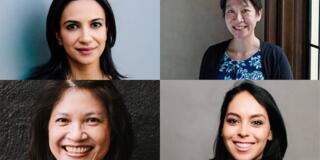 With around 1,174 faculty full-time and part-time at the University of San Francisco, the COVID-19 crisis has forced an adaptation to a new type of normal — including a new way of teaching and a new way of continuing to be thought-leaders in their respective fields.
On Tuesday, March 24, and Thursday, March 26, USF faculty held the first of many webinar panels offering a range of scholarly perspectives on the COVID-19 crisis. The webinar series kicked-off with a discussion focused on marginalized communities during times of crisis, moderated by Shabnam Koirala-Azad, dean of the School of Education, Genevieve Leung, associate professor in the College of Arts and Sciences, Hsiu-Lan Cheng, associate professor in the School of Education, and Daniela Domínguez, assistant professor in the School of Education, the group explored the impact of COVID-19 on marginalized communities through a historical and socio-political lens.
These panels aim to bring together the USF community, while drawing on the scholarly perspectives of faculty members and expertise across disciplines, to help navigate and make sense of COVID-19.
The Narrative of a Dangerous Discourse
A pride point of the university is that 96 percent of faculty members hold the highest or terminal degree in their field making them prime sources for assisting in providing clarity and perspective at a time of global uncertainty.
Similarly, another point of pride is the vast array of diversity in cultures and ethnicities that is found throughout the city of San Francisco and is also reflected across the campus in the workforce and the student body.
Around 45 percent of faculty at USF identify as an ethnicity other than white, and in that, nearly 15 percent identify as Asian.
During a time when powerful world leaders like President Trump have referred to the COVID-19 outbreak as the "Chinese virus," severe, sometimes even violent consequences have come socially from that association.
It is a dangerous phrase that Trump defended for days until recently commenting he would discontinue the use of the term, but the damage from the discourse in language has already been done according to Associate Professor, Hsiu-Lan Cheng.
"We need to think about how the current discourse in the country has been perpetuating racism during this pandemic," Cheng said. "There has been a surge of hate crimes against Asian races."

Cheng went on to cite several recent news stories globally of these instances including one in San Francisco where a Chinese-American woman was spit on and yelled at by a man who also screamed that he wanted a bus to run her over.
"Viruses do not discriminate, but language like 'Chinese Virus' and 'Kung-Fu Flu' racializes an infectious disease and suggests Chinese people are the source," Cheng said. "As a psychologist, I am so concerned about the longer term impact of trauma-related mental health concerns this will cause including: PTSD, anxiety disorders, and mood disorders. Although we haven't had enough time to see long term impacts of racism due to COVID-19, we can look at history and predict these psychological impacts in our communities."
Language discourse of this nature is not new or exclusive to our global culture. Associate Professor,Genevieve Leung discussed how racial slurs and language have long been a way to influence social structures, many times for the worse.
"It is important to understand no word is ever purely neutral in that sense. Discourse is language in action," Leung said. "The more ideologies are circulated the more they are linked to various truths and then talked about as commonplace. As they circulate in the world, we either buy into them, or we disrupt and dismantle them. We have to disrupt this discourse."
An Army of Allies
Changing narratives and disrupting topics or things that have become normalized takes determination and allies working individually and together.
"Our Jesuit mission helps us understand how, in concrete ways, we can begin to build solidarity with those on the margins - and how we can comfort one another," said Assistant Professor, Daniela Domínguez. "So much of this starts with the self. It's uncomfortable to think of ourselves being biased and being aware of biases, but we all have them… The tone of change has to be urgent at this time and it must be a tone that is different than ones we have used in the past."
Being conscious of the word choice used individually is where change begins according to Leung.
"We can shift the discourse by examining how we talk about things to others among ourselves and letting that trickle down," Leung said.
Looking Ahead
"As we're figuring out various disruptions to our lives we're still striving to find meaning and connection during this global pandemic and these panels are one way we can continue to do that," said Shabnam Koirala-Azad, dean of the School of Education.
Future panels will continue to explore what the USF community, dedicated to Jesuit values, can offer in terms of education and support during this time of global crisis.
Rewatch the panel on Marginalized Communities During Times of Crisis »
Support is still needed in many areas as the situation continues to unfold worldwide. So we can continue to support our global USF community, consider giving to the COVID-19 Response Fund »
For more information and the latest updates from USF, please check the university's COVID-19 resource page.