Alumni
Engaging with Empathy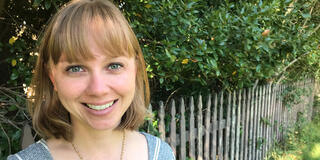 Practicing empathy in our homes and communities is key to gaining a deeper understanding of human emotion. However, what if the practice of empathy was exercised in places that explore controversial, emotional topics; places that are just as emotionally divisive as they are educational?
Lacey Lieberthal '13, BA in Art History/Arts Management, explores the practice of empathy in museums in her recently published article "Engaging with Empathy: Staff Support for Emotionally-Charged Exhibitions." She argues that preparing museum staff and volunteers to react calmly and empathetically towards visitors who share their personal reactions and stories is key to fostering open dialogue and broader social perspectives in a museum context.
She writes "When an educator avoids reacting rashly or attempting to change a visitor's mind, the dialogue that results will allow participants to embrace multiple perspectives represented in the group and gain a deeper understanding of the human experience as it relates to the museum."
A frontline museum professional once told her a story that made her realize the importance of practicing empathy in museums.
"They sat with a crying visitor for 45 minutes. The visitor had personally lived the very emotional experience being presented in the exhibition. However, the museum employee was unsure what was appropriate for her to do in this situation. She felt unsure about what to say, whether she was neglecting other visitors in the gallery, and what proper protocol should be in this situation. It was then that I knew this needed to be discussed, and I made it my goal to learn about how museums can better educate and support staff and volunteers in the face of emotionally-charged exhibitions."
She attributes the values she acquired while studying at USF as inspirations.
"During my time at USF I developed my love of museums and gained the foundational knowledge to be an effective museum professional. Additionally, USF instilled in me a drive to care for others and find the way in which I might be able to "change the world from here."
Ultimately Lieberthal went on to become a successful, caring, professional. She earned an MA in Museum Studies and now holds a position at the California Association of Museums in Santa Cruz, CA.
"In order to better support these individuals who are vital to the museum's success, one must have empathy for their perspectives and experiences. Above all, we must listen to them, and we must never stop caring for them."