Giving
Embracing the Journey, Not the Destination
5 Questions with Paul Herrerias '77, MA '91, North Bay Alumni Regional Council Member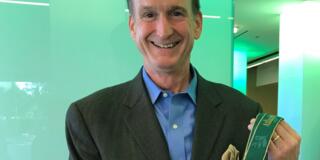 Once a Don, always a Don. Paul Herrerias '77, MA '91 is living proof. Since joining the alumni community many years ago, Herrerias continues to celebrate his alma mater as a dedicated North Bay Alumni Regional Council member and university donor.
Aside from being a member of various alumni societies, including the Accounting Alumni Society and the North Bay Alumni Regional Council, Herrerias supports the university in any way he can. His main focus has been providing assistance to the USF Fund, the School of Management, and various scholarship funds. He credits the university's devotion to global impact for his motivation to give back. 
In addition to Changing the World, USF has also changed Herrerias' life. From walking across the Hilltop campus as an undergraduate student in the 70s to becoming a dedicated university philanthropist, his relationship with the university has blossomed beyond expectation. No matter where the future takes him, Herrerias is certain that USF will be a part of his life forever. 
What does "Changing the World From Here" mean to you? 
Responsibility. It means that the responsibility for change starts with you and me, right here. It starts and ends with us.  If others care to contribute to our efforts, fantastic.  That is their choice, their "why."  We can only control our own efforts and, through our actions, perhaps we will serve as an inspiration for others. It is up to us to create change now. How we get there is up to us to figure out. 
What impact has USF had on your life? 
USF is a community. It's more than a place.  The community has been woven into my two degrees, continued spiritual development, business networking, girl's basketball coaching, guest lecturing, campus event participation, scholarship fundraising, and alumni board work. For such a relatively small school, the USF community has made a big impact on me and my family.  My children are aware of USF's values, morals, and influence on my adult life.
What inspires you to give to USF?
First and foremost, I believe in what USF stands for: an opportunity for a well-rounded education while balancing the latest in technology with the classics of philosophy, theology, and society. USF is not just about getting a degree, but encouraging us to be our best — to explore, challenge, and define ourselves. A USF education is a journey, not a destination. It continues for a lifetime. 
Is there someone in the USF community who has had a substantial impact on your college experience? 
Father John Lo Schiavo and Annette Anton were my heroes. Father Lo Schiavo impressed me with his steely commitment to values and integrity, at all costs, so that he could be a dependable beacon for us all. He also embraced my family and me with intimate interest in me as a whole person. Annette Anton, former director of USF alumni relations, radiated positivity and the USF spirit.  She set an example for caring, encouraging, and accepting others that has remained unsurpassed in my lifetime.   
What piece of advice would you give to current Dons?
Keep challenging yourself, seek out the best mentors you can find in life, and dream big for what you can do for others. Don't be afraid of change throughout your journey as you learn and grow. Go Dons! 
Join philanthropists like Paul Herrerias in support of the USF community, and consider making a gift in support of Changing the World From Here: Campaign for the University of San Francisco. Learn more about how to get involved with an Alumni Regional Council »