Engaged Learning
A Day in the Life of a Field Biologist
Students Assist Professor's Research in the Sierra Nevada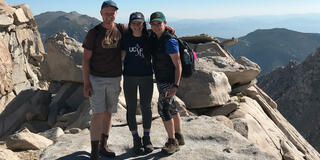 Some Biology majors spent the past summer in the Sierra Nevada, reveling in nature and enjoying a front row seat to the activities of native wildlife. It was part of an annual field research trip led by Professor Scott Nunes to document the behavior of juvenile Belding's ground squirrels.
Prof. Nunes and his team of students studied how social play affected the squirrels' docility. This means the students got to spend a lot of time watching young squirrels chase each other, tackle each other, and even box. The goal of their research was to illuminate how early life experiences, like play, influence the development of temperament in young animals; as Prof. Nunes explained, temperament can have a significant impact on how animals navigate their worlds.
"I love animals. I simply couldn't pass up the chance to work with a free-living species and do some field research," James Hurst-Hopf '18 said. "My favorite part was being able to see how the squirrels interacted and how they dealt with predators. An added bonus was the view from the research area was spectacular."
Nyla Leonardi '19 has also long been interested in mammalian behavior and thought working with Prof. Nunes in the Sierra Nevada would be "an amazing introduction to the world of field research." Her favorite part was being out in nature and observing the squirrels' family dynamics.
"Over time you start to see little personalities in the juvenile squirrels," she said. "Some are bold, some are timid. I loved being able to watch them play with each other and observe their relationships with their mother."
Learning on the Job
On top of helping these students cultivate their interest in field research and animal behavior, the trip allowed them to develop their skills as researchers, which will be a great asset after they graduate and pursue master's programs or careers in biology.
"Being out in the field under the expert guidance of Prof. Nunes, I learned quite a bit about what a field biologist truly experiences," James said. "I learned several methods and practices for capturing animals, while at the same time ensuring they do not experience injury. More importantly, I learned a lot about how to record data in a field research setting."
Nyla said she gained useful observational skills and a great sense of patience, an important quality in a researcher. "Sometimes, squirrels don't do exactly what you want, so I definitely learned how to go with the flow and be patient when it came to observations."
Martha Monroy Montemayor '19 encourages any student with an interest in field work to try it out while at USF, especially if they're on the fence about it.
"It certainly is hard work and not everyone likes it that much," she said. "But for me, it was very rewarding. It helped me narrow down my interests. I got to experience how research is done, how information is organized and interpreted, and all the factors that might play a role in doing it. Plus, it counts as work experience."