Passion for Justice
For Those Who Have Less, the Crisis Hurts More
Immigrants hit especially hard by coronavirus troubles, says USF professor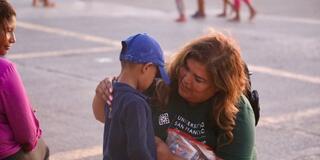 How does the crisis affect immigrants, especially undocumented immigrants?
The crisis hits them especially hard because if they don't have work, they don't qualify for safety-net resources. They won't get the stimulus package because they don't have valid work authorization. They can't file for unemployment. I'm the founder of a nonprofit that works with immigrant families and we're getting calls from them wondering how they're going to make it to the next month with no income, no money for rent. Although some counties have put a moratorium on rent, the rent isn't being forgiven, and tenants will have to pay a heftier bill later.
Are some immigrants still working?
Yes, those who have work are still working. But right now, as we speak, farm workers are working in the fields and no one's thinking about whether they're wearing face masks. They're on the front lines of providing food for our communities. Many of them are also cleaning our clinics and hospitals, spaces exposed to COVID-19. Our nonprofit, Ayudando Latinos A Soñar, is handing out cloth masks to farm workers, house cleaners, grocery store workers, and their families. These people are the backbone of our economy. And though we depend on them, they are left out of this conversation about getting government funding. That's alarming.
How feasible is it for them to shelter in place?
It's hard to shelter in place or maintain a social distance when you're sharing a dwelling with one or two other families. That's what the cost of Bay Area housing has done. This crisis is exposing a lot of inequities that have been around for a long time.
What about immigrants stuck at the border?
So many USF faculty members and students have been working with families stuck at the Mexico border. Our Bay Area border team returned to the Bay Area right before COVID-19 hit, and the immigrants down there now have little or no access to medical care or to the relief services, which they rely upon.
What about the president's order to halt all immigration?
Halting immigration adds to the trauma of those who are already suffering. It's important to remember that asking for asylum is a human right. I've received numerous calls from people at the border who are in complete despair about what this means, as waiting one more day puts them at risk.
How can the USF community help?
Write to your representatives and advocate for the undocumented. Look within your own community and help people in need. We also have undocumented students at USF, and donating to the COVID-19 Response Fund can help them.